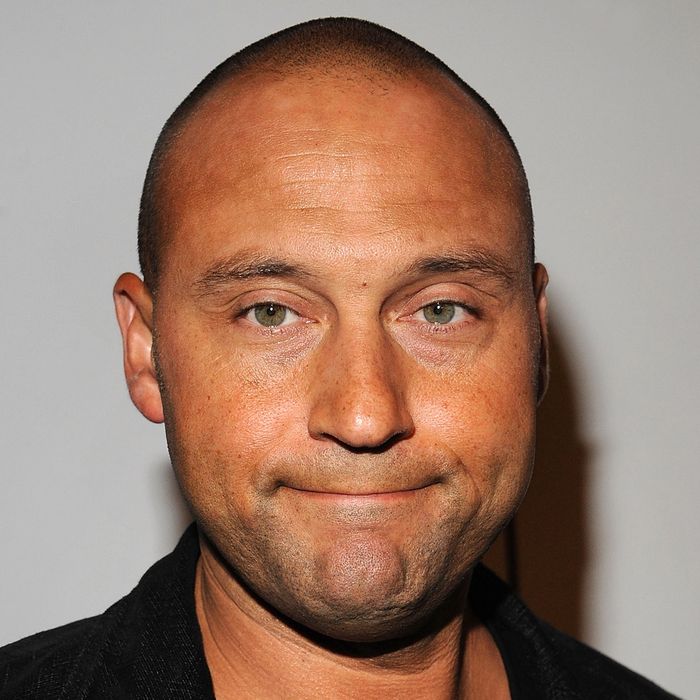 Photo: Brad Barket/Getty Images
Derek Jeter is not long for the baseball world. The oft hurt, defensively challenged Yankees shortstop signed a one-year contract this off-season, signaling that he may be ready to retire after the 2014 season. Another tell: He's lining up other projects. Yesterday, Jeter announced he's getting into book publishing with a Simon & Schuster imprint called Jeter Publishing (so as not to confuse anyone). Starting in 2014, the division will focus on nonfiction (biographies, business, lifestyle), children's books, and middle-grade fiction, with an eye toward turning titles into movies or TV shows.
"I think this sort of sets the blueprint for postcareer," Jeter told the New York Times, promising, "If I put my name on something, I'm going to be involved. I'm not just going to put my name on it and not pay attention." As an unsolicited favor, Daily Intelligencer asked some publishing industry veterans what he has to do to be as successful in the book world as he's been at baseball. Range did not come up.
1. Pick passion projects
"I think it's an intriguing undertaking. I'm envious!" says Jonathan Galassi, president and publisher of Farrar, Straus and Giroux. "Derek Jeter is one of the most respected and loved figures in sports today, and has an utterly unblemished reputation. If he's serious about sponsoring work of comparable quality, as I imagine he is, this could be a very good thing. He should concentrate on what he himself likes and is interested in. My take is that he will stick to projects he himself can be truly involved in." Maybe a dating guide, to start.
2. As with hitting, get used to failure
"Jeter is smart to go into publishing," says David Patterson, an agent at Foundry Literary + Media, "As one of my mentors told me long ago – and I have sure heard others say since – baseball and publishing are unusual businesses in that if you bat .300 in either, you're going to get into the Hall of Fame."
David Hirshey, executive editor at HarperCollins, concurs. "Derek Jeter has more than 3,000 hits in his career and a lifetime batting average over .300," he said. "If he can produce those kind of numbers with books, he's a lock for the publishing hall of fame, which I believe is in Michael's."
3. Actually participate
"It needs to go deeper than one interview and your name on the spine," says Jason Pinter, founder and publisher of Polis Books. "Meet with the people who'll be working on your books. Not just upper management, but the editors, the designers. Visions aren't conveyed by lawyers, agents, and middlemen."
He could even show his face at industry events like Book Expo America and the American Library Association conference, maybe sign a few autographs. "Talk to booksellers and librarians," says Pinter. "Tell them why people in Seattle, St. Louis, and, yes, even Boston, should care that your name is on the jacket."
4. Dream big

"I know a lot of kids who want to grow up to play shortstop for the Yankees," says Jon Meacham, executive editor at Random House, "but this may well be the first case of a shortstop for the Yankees wanting to grow up to be in publishing — which makes it a fine day indeed for publishers."
5. No A-Rod
"Above all else," offers Pinter, "do not sign Alex Rodriguez."