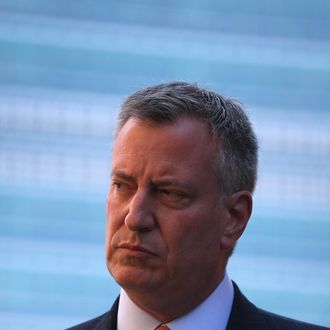 Photo: John Moore/Getty Images
Well, sometime before the election might have been the absolute worst time, but David Dinkins still managed to make things pretty awkward for Bill de Blasio. On Monday, the mayor-elect touted his signature plan to raise taxes on the wealthy to fund universal pre-K during a conference on children's issues at Columbia University. The carefully coordinated event was De Blasio's first major address since the election, and the New York Times reports he went out of his way to praise Mayor Dinkins, who was in the audience, noting that he and his wife met while working in his administration. In return, Dinkins suggested in front of dozens of experts and journalists that De Blasio's policy might not work, and helpfully offered an alternative plan. 
"I know how difficult it's going to be to fight Albany to get a tax on the wealthy folks to solve this problem. But I have a suggestion that I would offer for your consideration," said Dinkins, whose head was projected on a screen behind De Blasio as the moderator asked a question. The former mayor said it might be better to fund the education program by bringing back a tax on commuters who work in the city but live elsewhere. "See whether or not this might be more easily done than putting a tax on the wealthy to take care of the rest of us," he said.
De Blasio continued smiling as he defended his policy, noting that the past three mayors managed to get their signature plans approved by lawmakers. "I take your point to heart," he added, according to Politicker, "but I think in the here and now, this is the right path and the attainable path … I think we're going to have the support we need to get it done."
Later, Dinkins said of his impromptu proposal, "I never mentioned it before to him directly, but it seemed like such an excellent opportunity, given all of the media there." Sure, he could have brought it to the Talking Transition tent, but he might have been drowned out by New Yorkers clamoring for "more pet horses for bet[t]er things."