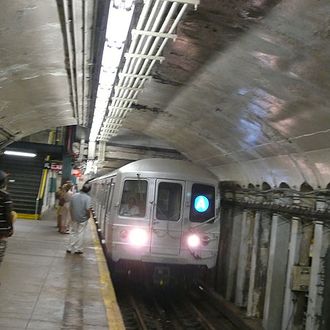 Every subway rider's worst nightmare once again came true for 72-year-old retiree Shou Kuan Lin as he waited for the northbound A train at 145th Street on Friday afternoon. Police sources told the New York Post that Lin was standing near his wife when a drunk man with a Santa Claus-like "full head of white hair and a white beard," identified as 57-year-old homeless man Rudralall Baldeo, approached him and shoved him onto the tracks. Luckily, fellow commuters were able to pull him back onto the platform before a train arrived.
Police officers in the station quickly arrested the alleged Baldeo, who told investigators "he thought he was in the 59th Street Station at Lexington Avenue and was rushing to change trains," according to the Post. He also claimed he said "Excuse me" to the victim, who he said then fell onto the tracks on his own. He has been charged with with attempted murder and felony assault. Meanwhile, Lin, who suffered a fractured skull and a broken collar bone, was taken to St. Luke's Hospital, where he remains in critical condition. 
This post has been updated throughout.