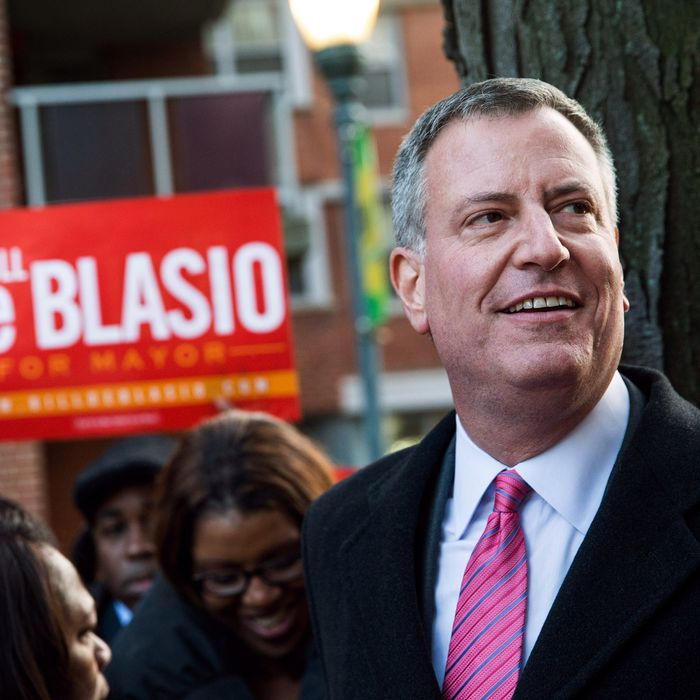 Photo: Andrew Burton/2013 Getty Images
Off-year elections are like the brunch of American politics: It's not quite a presidential election, it's not quite the midterms and, uh … it's unclear if it comes with a slice of cantaloupe at the end. Nevertheless, there are some interesting races to watch tonight. Will Chris Christie lose the New Jersey gubernatorial race in one of the biggest political upsets in recent memory? Will the streets of New York City immediately be overrun by biker gangs once Bill de Blasio is elected mayor? Probably not, but there's only one way to find out! Join us here for all of the thrilling election night updates.
1:02 a.m.: Bill de Blasio has 73.6 percent of the vote to Lhota's 24.0 percent, with 95 percent of precincts reporting.
12:50 a.m.: Just as he did in the Democratic primary, Kenneth Thompson beat Charles "Joe" Hynes on Tuesday night, becoming Brooklyn's first African-American district attorney. That also makes Hynes the city's first incumbent D.A. to be voted out of office since 1955.
Hynes had 30 percent of the vote to Thompson's 72 percent with 58 percent of precincts reporting. Justifying his decision to challenge Thompson as a Republican, Hynes said the results give his opponent "a clear mandate, which he didn't have in the primary."
12:32 a.m.: Here's the front page of Wednesday's New York Times.
12:05 a.m.: Chris Christie won 60.5 percent of the vote to Barbara Buono's 38 percent, with 99 percent of precincts reporting.
11:49 p.m.: Some candidates didn't get to celebrate their victory tonight with a magnificent cake replica of the state house, complete with their own action figure. Chris Christie pities them.
11:37 p.m.: The New York Post welcomed our next mayor with the headline "De Blasio first Democratic NYC mayor elected since the bad old days." They quickly thought better of it and switched to "Bill de Blasio elected NYC mayor," but here's a screengrab of the old title: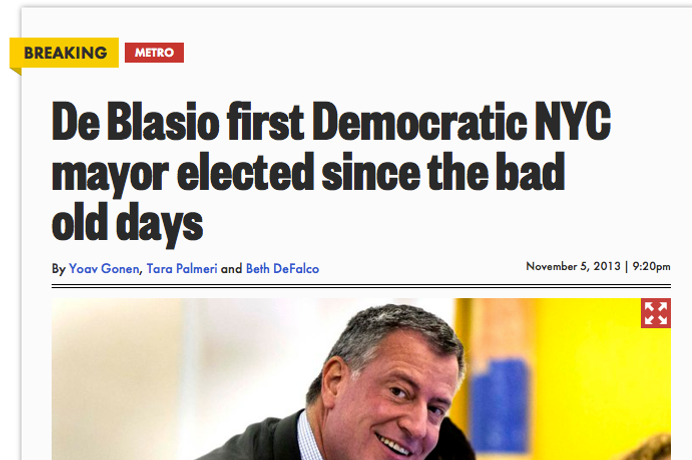 11:24 p.m: New Yorkers are sick of traveling out of state to wallow in their vices. The constitutional amendment to expand casino gambling, which will allow for the construction of seven Las Vegas-style casinos in the state, has been approved.
11:13 p.m.: In his victory speech at the Park Slope Armory, de Blasio said New Yorkers have chosen "a progressive path." He listed income inequality as a top priority, saying, "The best and the brightest are born in every neighborhood. We all have a shared responsibility and a shared stake in making sure their destiny is defined by how hard they work and how big they dream, and not by their Zip code."
10:14 p.m.: Chris Christie declared in his victory speech that he loves New Jersey, and wants to be its governor for the rest of his life at least until the 2016 campaign really gets going. "I am so proud to be your governor," said Christie. "Thank you New Jersey for making me the luckiest guy in the world. And the only greatest honor and privilege than being a one term governor of New Jersey is to be a two term governor of New Jersey."
Christie's love letter to New Jersey was obviously geared toward a wider audience as well. After listing his accomplishments in his first term, he said, "I know that if we can do this in Trenton, New Jersey, maybe the folks in Washington, D.C. should tune in their TVs right now, see how it's done." 
"I did not seek a second term to do small things. I sought a second term to finish the job. Now watch me do it," said Christie. For those concerned that Christie might want to "finish the job" in a higher office, he added that he's on a "mission" to make sure everyone affected by Sandy will be returned to normalcy. "I will not let any one, any thing, any political party, any governmental entity, or any force get between me and the completion of my mission," he said.
10:05 p.m.: Joe Lhota offered "goodwill" to Bill de Blasio in his concession speech, but also took one last jab at his "tale of two cities." "We are five boroughs, but we are one city," said Lhota. "We are one people, and we want our city to move forward not backwards. And I do hope our mayor-elect understands this before it's too late."
10:02 p.m: Terry McAuliffe has beaten Ken Cuccinelli in the Virginia governor's race, according to the New York Times and CNN. As a top Democratic fundraiser, former DNC chairman, and friend of Bill Clinton, McAuliffe has had a long and successful career in politics, but this is the first time he's held elected office.
Luke Russert shared this Vine of McAuliffe supporters reacting to news:
9:51 p.m.: Incumbent Brooklyn D.A. Charles Hynes was so determined to keep his job that he decided to run as a Republican after losing the Democratic primary. The Daily News reports that it looks like he's finally ready to give up. His "victory party" is being held at a Bay Ridge restaurant that closes at 10 p.m., long before the votes will be counted.
9:47 p.m.: NBC News and Fox News are projecting that Terry McAuliffe will win in Virginia.
9:18 p.m.:  Breaking with tonight's trend, CNN reports the Virginia governor's race between Terry McAuliffe, the former DNC chairman, and Ken Cuccinelli, the Republican state Attorney General, is too close to call.
9:15 p.m.:  It's official:  CNN, NY1, and the New York Times have all called the New York City mayoral race for Bill de Blasio, making him the first Democrat elected to the office in 24 years. According to the Times, "Exit polls conducted by Edison Research suggested that the sweep of his victory cut across all of New York's traditional divides. He won support from voters regardless of race, gender, age, education, religion or income, according to the exit poll." Good thing the Lhota camp has plenty of alcohol.
8:51 p.m.: After being called out for the exorbitant drink prices at Joe Lhota's primary night celebration, it appears his campaign has learned its lesson.
8:28 p.m.: That was fast. The Associated Press called the New Jersey gubernatorial race for Chris Christie just minutes after polls closed. NBC News reports that exit polls show Christie has "the support of voters well outside the traditional GOP base, winning a majority of women, about one-in-five black voters, nearly half of Hispanics, and roughly 30 percent of self-described Democrats."