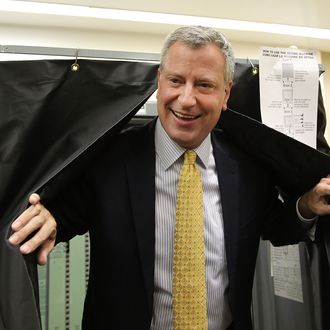 Photo: Spencer Platt/2013 Getty Images
It's Election Day in New York City, and because the polls have been predicting a blowout victory for Democratic mayoral candidate Bill de Blasio for some time now, turnout probably won't set any records. But the progressive folk hero has been working the campaign trail hard in the final days in hopes of really walloping Republican nominee Joe Lhota, which would provide a nice mandate for his plans to break from the Bloomberg era. Other races we're watching include the second round of the slugfest to be Brooklyn's district attorney, and competitive City Council races in Staten Island and Queens. There are also some fun ballot initiatives, including one that would pave the way for Las Vegas–style casinos in the Empire State!
VOTING
Polls open at 6 a.m. and close at 9 p.m, but unlike the primaries, which featured those lovely lever voting machines, the city is using paper ballots read by optical scanners once again – which will either speed things up or make a shambles of local democracy. You can look up where to vote based on your address here.
MAYORAL RACE
This one is pretty much in the bag for Public Advocate Bill de Blasio, who's maintained a huge lead by tapping into widespread anxiety about the city's wealth disparity and police practices. In recent polls he's been about 40 points ahead of Lhota, who was deputy mayor under Rudy Giuliani. The televised debates didn't seem to have much impact, and if anything helped de Blasio, who is much more effective on camera. The only drama will center on just how well Big Bill (he's six foot five) does throughout the five boroughs, as Staten Island is traditionally more conservative than his home base of Brooklyn.
BROOKLYN D.A. RACE
Speaking of Brooklyn, the borough's district attorney race was supposed to be over after incumbent Charles "Joe" Hynes lost the Democratic primary to former federal prosecutor Kenneth Thompson in September. After all, Hynes had indicated he would bow to his party's will, and Brooklyn hasn't been inclined to elect Republicans to any office for some time. But Hynes couldn't bear to see decades of power slip through his fingers, so he switched to the Republican and Conservative Party lines in hopes of sticking around a little longer. He still has the support of some Orthodox Jewish leaders, as well as the handful of actual Republicans in New York City, but Thompson – endorsed by de Blasio and the state's entire Democratic establishment – should romp.
CITY COUNCIL
Most of these contests were effectively decided when Democrats chose their nominees in September, but District 50 on Staten Island features something of a nail-biter between Democrat John Mancuso and Republican Steven Matteo. Both are more conservative than your typical city pol – they want Ray Kelly to stay on as police commissioner, among other things – but differ on how areas damaged by Hurricane Sandy should be remade into wetlands. Decide NYC has an excellent breakdown of the race here.
Also coming down to the wire is the contest to represent Queens'$2 19th District, where incumbent Republican Councilman Dan Halloran was caught in a bribery scheme intended to get State Sen. Malcolm Smith elected mayor. Democratic candidate Paul Vallone enjoys the support of Giuliani, making him the favorite over GOP nominee Dennis Saffran despite the district's conservative makeup.
BALLOT INITIATIVES
There are a handful of questions being put directly to voters, the most controversial of which is probably Governor Andrew Cuomo's plan to allow the construction of as many as seven casinos (mostly upstate). Cuomo and his allies in the business community are convinced gambling is a job creator and huge potential source of revenue for local school systems, but a mishmash of liberal and conservative politicians and activist groups are determined to block their initiative.
BONUS:  NEW JERSEY GOVERNOR
Across the state border, Republican Gov. Chris Christie is cruising to re-election, though it remains to be seen just how massive his margin of victory will be in a state that typically only has love for Democrats. Widely expected to seek his party's presidential nod in 2016, Christie will be looking for the kind of blowout win that demonstrates bipartisan appeal – a valuable credential in a GOP concerned about its viability on the national level. Democratic nominee and State Sen. Barbara Buono, on the other hand, has been effectively left for dead by the national party, including President Obama, who may have personal reasons for staying on the sidelines, just as he did in the 2009 NYC mayoral race that gave Bloomberg a third term.