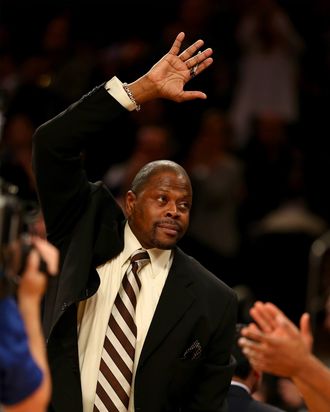 New York Knicks legend Patrick Ewing salutes the fans in the first quarter at Madison Square Garden on November 5, 2013 in New York City.Ewing is now an assistant coach on the Charlotte Bobcats.
Photo: Elsa/Getty Images
Patrick Ewing, the legendary Knick who has been seeking a head-coaching gig in the NBA for years to no avail, will finally make his debut tonight. The matchup was not intentional: As the associate coach for the Charlotte Bobcats, Ewing is temporarily taking the helm while head coach Steve Clifford recovers from a heart procedure, and, as fate would have it, the Bobcats are playing the Knicks. Even without stepping foot on the court, the 51-year-old Ewing is expected to somehow grab more rebounds than Andrea Bargnani.