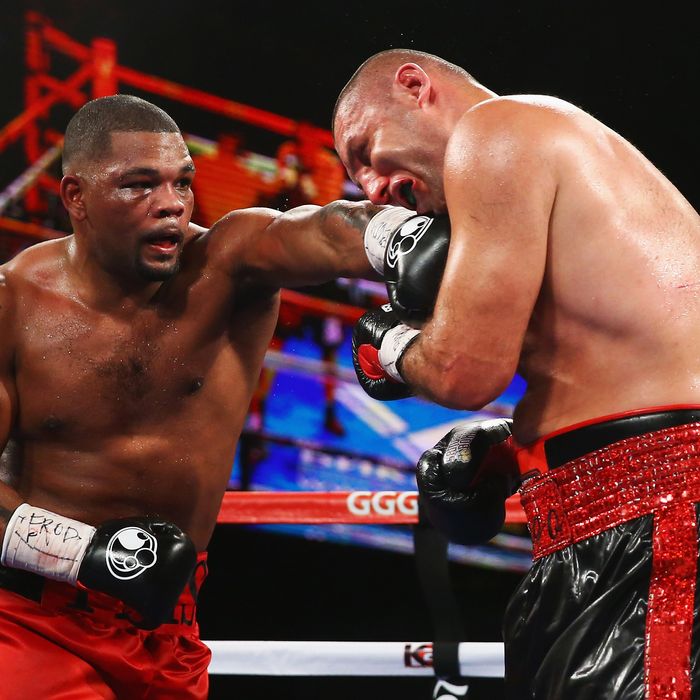 Mike Perez punches Magomed Abdusalamov during their heavyweight fight at the Theater at Madison Square Garden on November 2, 2013.
Photo: Al Bello/Getty Images
For the last twelve days, Boris Grinberg has been sitting in the waiting room on the eighth floor of Roosevelt Hospital, just outside the Intensive Care Unit, wondering when his fighter, Magomed Abdusalamov, will wake up from a coma. The boxing manager chews his gum and bobs his foot, still in shock at how his plans for revenge on heavyweight champion Wladimir Klitschko had gone so wrong. 
"I have nothing," he tells me with his thick Russian accent. "I lose everything in my life."
Grinberg has spent the last few years of his life financing the career of Magomed Abdusalamov, whom he believed had the knockout power and tolerance for pain required to beat Klitschko, who has controlled the heavyweight title for years. Abdusalamov turned out to be too tough for his own good: He suffered a stroke and has been placed in a medically induced coma after enduring a brutal beating (fractured left hand, cut eye, broken cheekbone) from Mike Perez, another heavyweight contender, at the Madison Square Garden Theater on Saturday. Instead of getting rushed to the hospital in an ambulance for a checkup after the fight, a routine practice for regulators in many states, Abdusalamov was cleared by state doctors and had to hail his own taxi to the hospital after his brain began to swell. His family is now contemplating a lawsuit.
"He man," Grinberg says. "He real man."
Grinberg found Abdusalamov in 2008, after his previous heavyweight from Dagestan, Sultan Ibragimov, lost a title bout to Klitschko that year. A former Olympic medalist, Ibragimov was a skilled boxer, but was too cautious and hesitant to put any pressure on Klitschko, who kept him at bay with his vicious jab. Abdusalamov was Grinberg's answer to this problem: What he lacked in skill, he made up for in fearlessness. But although his first eighteen fights had resulted in knockouts, he'd never fought past the fifth round. His lack of pedigree turned out to be the difference in the fight as Perez slipped, eluded, and countered Abdusalamov's haymakers.
Now Grinberg hopes that Abdusalamov's grit will help him make a recovery of some kind. On Wednesday, further tests showed signs of slight progress. "The doctor tell us, 'We think he will survive,'" Grinberg says, but it's unclear what type of condition Abdusalamov will be in if he does wake up. He could be blind. He could suffer a loss of speech. His coordination could be off. "The brain is a dark part of the body," Grinberg says and shakes his head. "We don't know."
Meanwhile, the days go by, and the medical bills go up, and Grinberg and the fighter's family sit in the waiting room. Abdusalam Abdusalamov, the fighter's brother, paces in the hall, unable to sit down for long. He worked his brother's corner on the night of the fight. He remembers what his brother told him after the last bell, and how sad he was that he wasn't able to knock Perez out, not even with the broken left hand. Abdul says, with Grinberg translating his Russian, "He tell me, 'Little Brother, you do your job, I don't do mine.'"