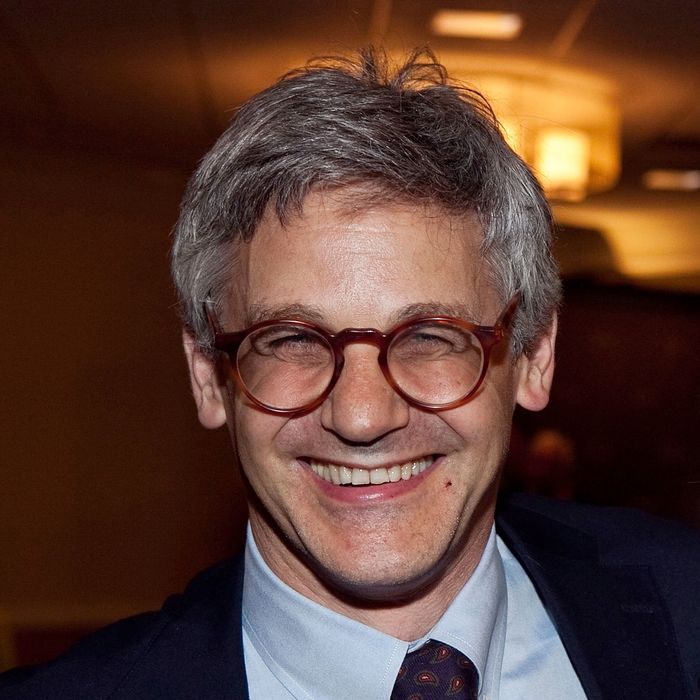 Peter Kaplan, who edited the New York Observer for fifteen years, died from cancer on Friday in Manhattan. He was 59. Before taking over the salmon-colored weekly newspaper in 1994, Kaplan was a reporter for the New York Times, the executive editor of Manhattan, Inc., and the executive producer of Charlie Rose. However, he will mostly be remembered for his work at the Observer, where he oversaw the rigorous coverage of the city's business, political, and cultural elite with a mix of wonderment, insight, skepticism, and humor that preceded the snark of the blogosphere.
In 2009, after seeing the paper through the changes that accompanied its 2006 purchase by then 25-year-old Jared Kushner, he departed for Condé Nast, where he was soon named editorial director of the publishing company's Fairchild Fashion Media, which is responsible for Women's Wear Daily and WWD.com, among other things. Last year, he launched the men's fashion magazine M. "When the Observer was cooking pretty well … I always had the same feeling, which was that I was really lucky, because it must have been like what running a really good small jazz band in the thirties would have been like," he explained in a New Republic profile published at the time. "And I'm always waiting for the magazine where the editor is playing a song for me."
Kaplan was known for hiring and cultivating young talents who remained enduring voices throughout the media world, including Candace Bushnell (whose "Sex and the City" column ran in the Observer), Nikki Finke, the Awl's Choire Sicha, The New Yorker's Nick Paumgarten, the New York Times' Jim Rutenberg, Capital New York's Tom McGeveran and Josh Benson, the National Memo's Joe Conason, Buzzfeed's Ben Smith, New York's Carl Swanson and Andrew Rice, and countless other writers and editors. (Buzzfeed's Doree Shafrir, who also once worked for Kaplan at the Observer, has written about his relationship with his writers here.) He also served as the inspiration for beloved and hilarious real_kaplan, wise_kaplan, and CrankyKaplan Twitter feeds, which were started by former Observer staffers Jim Windolf and Peter Stevenson.
Here is a brief oral history of Kaplan's time at the Observer. Here is a tribute to pre- and post-9/11 New York he wrote for the tenth anniversary of the attacks on the Twin Towers. And here is a remembrance he wrote upon the 2008 death of his mentor, New York founder Clay Felker, that contained much of Kaplan's own idea of what writing should be.