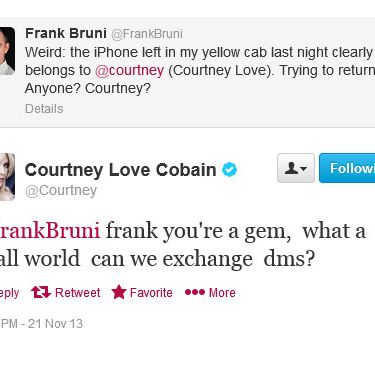 Seriously — only in New York. Someone's next column and/or album is going to be about serendipity and the kindness of strangers.
Bruni shared the circumstances surrounding this wonderful meeting of worlds with Daily Intelligencer. On his way home from dinner at Barbuto last night, the New York Times writer came across the phone as he was exiting his taxi. "I assumed it was mine. I thought, Jesus, Frank, I can't believe you left another phone in a cab," he said. "But then I realized I was talking on my phone, so it couldn't have been mine." (Love's iPhone, Bruni said, doesn't have a case, but the screen is not cracked, for the record.)
"It didn't ring last night, but it rang this morning and I discovered that I couldn't even answer a call," he said. "It was super-locked."
But at the office, Bruni's assistant, Isabella Moschen, realized she could see the incoming texts. "First I saw that Stella Schnabel had just texted her," said Moschen. "And then I noticed this name, Lo'renzo Hill-White, and I Googled him and he's a celebrity stylist. Then there was Peri Lyons, the name sounded familiar to me, and I realized my uncle used to date her! She's a psychic to the stars. I said to Frank, 'It's gotta be Courtney Love.'"
"There was another little item on the screen from Instagram and it said someone had posted a picture of her," said Bruni. "It was a Throwback Thursday."
Minutes after Bruni sent his tweet, Love's manager got in touch. She'd been at a performance of Betrayal on Broadway last night and grabbed a cab when she couldn't find her car.
Through her detective work, Moschen also found a picture of Courtney and her "house manager," Tenzin, the person who'd been calling the phone. "But on Courtney's phone she had it has Tinzen," said Bruni. "Courtney actually has her assistant's name mangled in her phone. Her manager told me, 'Everybody's misspelled in there.'"
"It's not exactly a column I could write but it is a fun story," said Bruni. "Now Courtney and I follow each other on Twitter and I have a direct message from her. This is the beginning of a beautiful friendship, or at least a signed copy of a Hole album."
Update: 4:41 p.m.: Reached via text message, a very grateful Courtney Love told Daily Intelligencer she was "terrified" when realized she'd lost the phone. "I pride myself on a certain discretion in certain aspects of my life," she said.
Asked if she gave Bruni a reward, Love said, "Oh I should! I didn't even think of that."

This post has been updated throughout.