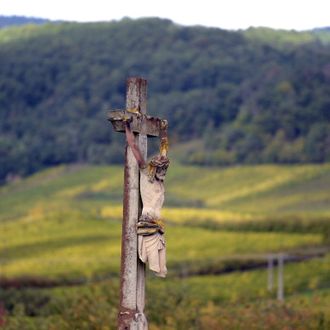 Photo: AFP PHOTO / PATRICK HERTZOG/Getty
An essay titled "Why Us?" is no longer on the site of the student-run Harvard Ichthus Christian journal. But before the journal took it down, the anonymous writer's message was pretty clear: "We, the Jews, collectively rejected God and hung Him up on a cross to die, and thus we deserved the punishments that were heaped on our heads over the last 2000 years." The essay went up Wednesday and sat on the site until Friday, the Boston Globe reports. On Saturday, the Ichthus apologized for failing to edit the post fully enough, for running the offensive content, and for letting the writer do so anonymously.
Ichthus editor Aaron Gyde stressed in his apology that the individual writer, whom the Ichthus has declined to identify, did not represent the publication as a whole:
The views articulated in the blog do not reflect views held by the current and previous members of staff. The ultimate authority for the content of the blog was left up to the author, and multiple members of the Ichthus community responded by stepping in to alert me, the Editor in Chief, of the offense caused by this piece.
The whole "Jews killed Jesus" idea has lingered for centuries as a key notion behind anti-Semitism, but Gyde claimed that's not what the writer meant:
The writer holds nothing but love for his heritage and feels very deeply for the welfare of the Jewish people. The blog was not intended to communicate animosity, but concern and a sincere desire to communicate the necessity of salvation through Jesus Christ alone.
So what did the writer mean by his piece? A second version included a line of explanation before the whole thing was scrapped, according to the Globe: "the author wrote that he or she was seeking, out of mercy and peace, 'to warn my beloved Jewish friends and family of the judgment that lies ahead.'"
Obviously, that sentiment didn't fly, and by the end of Friday the essay had been taken down. But Gyde told the Globe we might not have seen the last of it. If "it can be revised so as to have a respectful and polite tone along with the theological rigor such a sensitive and important topic requires," Gyde said the Ichthus would re-post the item.