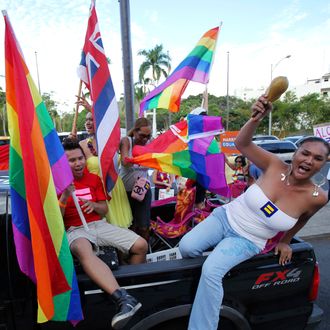 Photo: Hugh Gentry/Corbis
At this point, a new state allowing same-sex marriage is still news, but far less so than it once was, twenty years ago, when Hawaii's Supreme Court became the first to rule that denying gay couples the right to marry was unconstitutional. That decision led the U.S. Congress to implement the Defense of Marriage Act, which the Supreme Court only repealed this year. Given Hawaii's significant role in the saga of marriage equality in this country, it seems kind of a shame that the state Senate only just approved a bill to legalize same-sex marriage there, in a 19-4 vote.
The bill, which exempts clergy and religious groups, passed with little struggle, Reuters reports. The Hawaii state Senate's one Republican opposed it, as did three Democrats (two others missed the vote). Abercrombie, who called the special session to consider the bill, plans to sign it Wednesday, making the state the fifteenth to legalize same-sex marriage. And now the state can get down to the business of hosting so many more destination weddings than it already does.