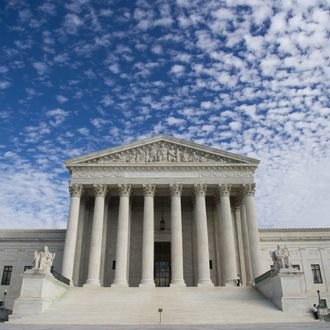 Photo: SAUL LOEB/AFP/Getty Images
The Obama administration and Hobby Lobby, the Chick-fil-A of craft stores, are taking their fight over reproductive health care all the way to the top. The Supreme Court agreed today to hear the case involving the Affordable Care Act's requirement that large enough employers must cover birth-control and other reproductive-health costs for their employees. Hobby Lobby — in addition to about 100 plaintiffs in similar lawsuits — claims its "religious liberty" is being impeded upon. At its core, the issue is whether or not the First Amendment applies to corporations as well as people.
Three federal appeals courts have ruled in favor of Hobby Lobby, whose Christian owners believe that certain birth-control drugs are the same as abortion, while two appeals courts have upheld the Obamacare rule, leaving it to the Supreme Court.  "We believe wholeheartedly that it is by God's grace and provision that Hobby Lobby has been successful. Therefore we seek to honor Him in all that we do," said founder David Green.
"The health care law puts women and families in control of their health care by covering vital preventive care, like cancer screenings and birth control, free of charge," said the Obama administration in a statement. "We believe this requirement is lawful and essential to women's heath and are confident the Supreme Court will agree."
"The president believes that no one, including the government or for-profit corporations, should be able to dictate those decisions to women," it continues. "The Administration has already acted to ensure no church or similar religious institution will be forced to provide contraception coverage and has made commonsense accommodation for non-profit religious organizations that object to contraception on religious grounds. These steps protect both women's health and religious believers, and see to ensure that women and families — not their bosses or corporate CEOS — can make personal health decisions based on their needs and their budgets."