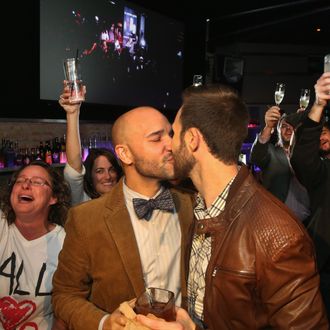 Fernando Mojica (L) celebrates with Drew Freeman at the Side Track bar after the bill passed.
Photo: Scott Olson/2013 Getty Images
The Illinois House of Representatives voted Tuesday to allow gay couples to marry, clearing the way for Illinois to become the fifteenth state to legalize same-sex marriage. The measure passed the House by a vote of 61 to 54, nine months after it was approved by the Senate. Democratic Gov. Pat Quinn said he will sign the bill in the coming weeks, allowing couples to begin marrying on June 1, 2014. While the bill doesn't require religious organizations to marry gay couples, opponents say the religious protections are insufficient. "The losers will be the people of Illinois who will see that redefining marriage will unleash a torrent of harassment toward those who believe that marriage is the union of one man and one woman," said Brian Brown, president of the National Organization for Marriage.
On the other hand, the Obamas came about as close to gushing as you can get in a presidential statement. President Obama urged the Illinois General Assembly to pass the measure earlier this year, and said on Tuesday that he's "so proud" of the body he once served in for making gay marriage legal in his home state. He added, "Michelle and I are overjoyed for all the committed couples in Illinois whose love will now be as legal as ours – and for their friends and family who have long wanted nothing more than to see their loved ones treated fairly and equally under the law."