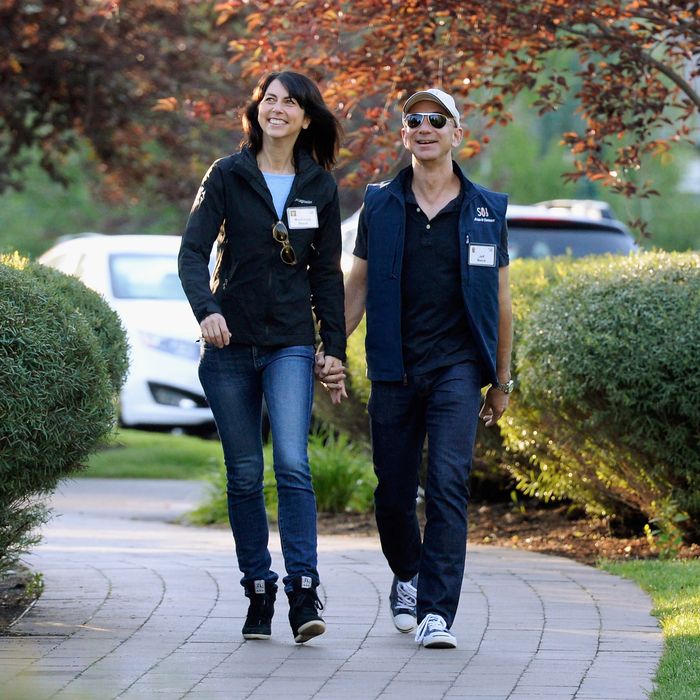 MacKenzie and Jeff Bezos, on a happier day.
Photo: Kevork Djansezian/Getty Images
Earlier this fall, Bloomberg Businessweek writer Brad Stone published a book about Amazon and its founder, Jeff Bezos. The book, The Everything Store, was (rightly) hailed by critics and given the kind of media honeymoon most authors can only dream of. The Times' Michiko Kakutani called it "a dynamic portrait of the driven and demanding Mr. Bezos," and Businessweek devoted an entire cover story to the book's juiciest nuggets.
So far, in fact, Stone's book has only one one-star Amazon review, written by MacKenzie Bezos, the CEO's wife.
In a review posted today, MacKenzie Bezos, a well-known novelist in her own right, picks apart Stone's book, beginning with Chapter One:
In the first chapter, the book sets the stage for Bezos's decision to leave his job and build an Internet bookstore. "At the time Bezos was thinking about what to do next, he had recently finished the novel Remains of the Day, by Kazuo Ishiguro, about a butler who wistfully recalls his personal and professional choices during a career in service in wartime Great Britain. So looking back on life's important junctures was on Bezos's mind when he came up with what he calls 'the regret-minimization framework' to decide the next step to take at this juncture in his career." It's a good beginning, and it weaves in nicely with what's to come. But it's not true. Jeff didn't read Remains of the Day until a year after he started Amazon.
Bezos has more quibbles with Stone's treatment of her husband and Amazon – most about minor details and accusations that Stone overlooked the thousands of employees who love working at Amazon and would never complain about the company's famously cutthroat work environment. She also complains that Stone overdramatized his version of events:
It may be that another telling of the Amazon story — for example, that people at Amazon have no secret agenda they've been able to keep hidden for 19 years, really do believe in the mission they keep repeating, and are working hard and of their own free will to realize it — would strike readers as less exciting than the version offered here.
Of course, if he'd wanted to make sure Stone's book was up to his standards, Jeff Bezos could have sat down with Stone for an interview. But, as MacKenzie notes, he never did. Maybe he's regretting that now that responding to the book has become a family affair.
Update: Reached by phone this afternoon, Stone said he stood by his book's accuracy. "I've been a tech reporter for fifteen years, and I talked to 300 people for this account of an incredibly secretive company … to the extent that I've made any factual errors, I'll happily correct them. But narrative nonfiction demands that we get as close to our characters as possible. While Jeff didn't give me interviews specifically for the book, I drew on my discussions with him for the past decade." Stone said that he "took pains" to make sure that his account of Amazon's history and culture was balanced, and that while he wasn't happy to read a one-star review from the company's CEO's wife, he didn't think MacKenzie Bezos was an impartial observer. "I am less biased than Jeff's own wife," Stone said.