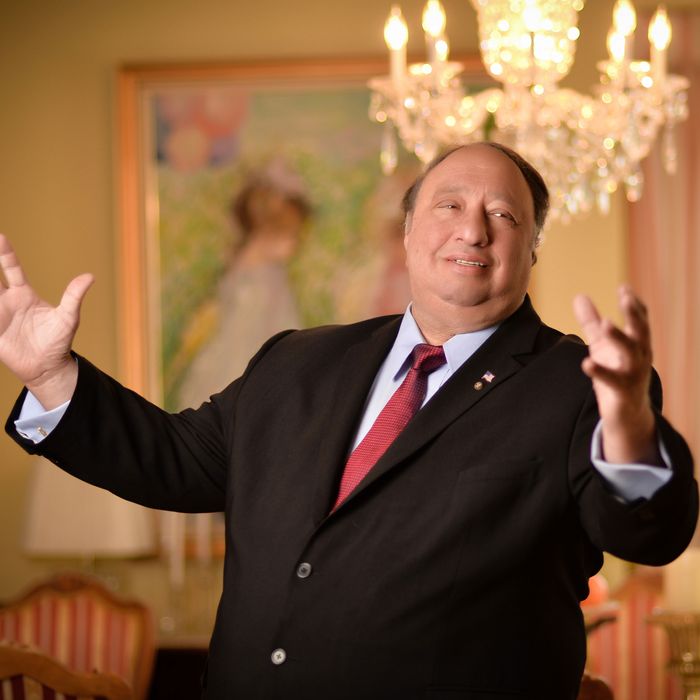 Photo: Andrew H. Walker/Getty Images
On November 1, the billionaire and former mayoral candidate John Catsimatidis got up at 6 a.m. He turned on two radios so he could listen to both Curtis Sliwa and John Gambling while watching CNBC and catching up on e-mail. (Margo, his wife of 25 years, sometimes yells at him for the constant multitasking.) At 8:30, he had breakfast at the home of one of his mentors, Rabbi Arthur Schneier, the president of the interfaith human rights group Appeal of Conscience Foundation.

At eleven, it was time for another meeting. So far there had been one for his real-estate company (Red Apple Group), one for his oil company (Metro Oil), and another to hire someone. The heavyset, balding 65-year-old was sitting in a dingy conference room on the third floor of a ramshackle building on 56th Street and Eleventh Avenue, his headquarters for the past three decades. "I got plenty of criticism from the New York Times — they practically said I operate in a shithole," he said, before pointing to one of a handful of architectural renderings stuck on a wall. "It's going to be a 22-story building sometime, and that's going to be this building."
He seemed pretty excited for a guy whose dream of becoming mayor was destroyed only six weeks before when Joe Lhota beat him in the Republican primary. "I have no regrets," he said. "I enjoyed it. I miss it."
The reality that it was all over hit home on October 13, when from a window in his Fifth Avenue apartment he watched the Hispanic Day parade go by without him. "It's a little depressing," he admitted. "I always like to be part of the parade."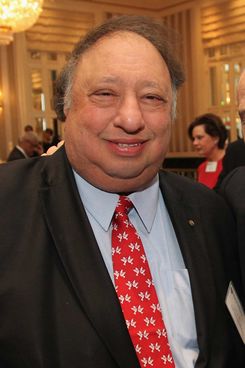 Catsimatidis seriously considered a mayoral run in 2008, until Michael Bloomberg told him he wanted a third term. Last January, unimpressed with the crop of hopefuls, he announced his candidacy and went on to spend $10 million of his own money, capturing 41 percent of the vote in the GOP primary. The man who bested him, Joe Lhota, is now running 40 points behind going into Election Day.

"You know how many people come up to me till today like with teardrops in their eyes saying we wish you were there?" he said. When he recently ran into Mayor Bloomberg, Catsimatidis thought he saw something in his eyes, too. "I personally felt he had remorse," he continued. "I felt it, that he had remorse that possibly he didn't support me."
Apparently, it's not just Bloomberg or early supporters such as George Pataki and Donald Trump who feel this way now. "Everyone" does. "No exaggeration. Everyone. Every single one. You saw what happened last week when Rudy practically endorsed me?" he continued, referring to comments Giuliani made at a recent benefit. "I don't know if you saw my speech, it's on the Internet — I said, 'I wish you would have said that two days before the election!'"

"Look, I'm friends with Rudy, I've always been friends with Rudy," he said. "I think he felt obligated to Joe." (Mr. Lhota served as deputy mayor during the Giuliani regime, though Catsimatidis suggested there had been "a little bit" of a recent falling out between the men.) "Look, I admire loyalty. Don't forget the fact Rudy came to my daughter's wedding just two years ago." Andrea Catsimatidis, a fetching 23-year-old graduate of NYU's Stern Business School, is married to Christopher Cox, a lawyer and Richard Nixon's grandson. Hillary Clinton was also at the wedding. Catsimatidis, a longtime friend and high-level Clinton donor, hosted several dinners at his apartment that raised over $750,000 for her failed 2008 campaign. He has also often let her husband use one of his airplanes.
It's safe to say Catsimatidis and Joe Lhota aren't as chummy. I was surprised to learn that he has not officially endorsed his former rival: "No. I said I was going to vote for Lhota — but it's a secret ballot."
Things began to go south between the two men in early September, when they marched at the Broad Channel Labor Day parade in Queens. After two hours and two miles, he and Mr. Lhota were worn out. "I was tired and he just took a car and went to the end," Catsimatidis recalled. Then, while they waited to say a few words to the crowd, he went over to shake his then rival's hand. "I'm being nice, making conversation, and I said, 'Maybe we should have found a way to work together because between what I'm spending and you're spending — we spent $13 million on a primary.' I was just making talk. And he looks at me and he says, 'Never in a million years.' And then he expected me to support him? I should have looked back at him and said 'never in a million years.'"
During the campaign, Catsimatidis criticized Lhota for being temperamental and, in another debate, turned to him and said, "I hire guys like you" — which he meant as a compliment. "It's true, I would hire Joe Lhota," he said. "I mean, he's a tough, you know, S.O.B. He's a good technical man, but it takes somebody special to be the big picture, the leader, and the creator of new things."
Asked who else falls under that category, he quickly said, "Bloomberg!"
But what about the presumptive next mayor? Catsimatidis knows him well. Mr. De Blasio, after a stint as Hillary Clinton's campaign manager in 2000, held his first fund-raiser at Catsimatidis's apartment when he decided to run for City Council.
"Look, we're friends for twenty years," he said. "I think he will come closer to center after he wins. I hope he does that. I think that would be a smart thing to do, but don't forget his campaign manager is associated with Barack Obama … I don't agree with all his policies, and, look, friends don't have to agree on all the policies. We're just different."
Catsimatidis turned his attention to flat-screen TV showing a live feed from a construction site on Myrtle Avenue in Brooklyn, where he's building a tower. On the screen, a bulldozer was racing around like it was on a monster-truck course. He has been similarly been using video cameras to keep an eye on his employees at Gristedes, the largest grocery chain in Manhattan, since 1986.
"I want the stores to know that I'm watching," he explained. "I may be watching at nine o'clock. I may be watching at ten o'clock. But every once in a while, I pick up the phone and say, "How come there's a line going all the way back and no one's taking care of the customers?" You know why? One mentor I had taught me that people do what you inspect, not necessarily what you expect. In other words, if nobody is watching there will be some slack off."
Catsimatidis stood up. He was wearing a plain black blazer, plain black pants, and a blue shirt. "It's my uniform," he said, then mumbled something about not needing a $10,000 Rolex and how his daughter has a new, much nicer office. "Getting the work done and getting the job accomplished is more important to me than having lots of whatever. I'm the same guy that grew up on 135th Street and clawed my way out of there."
In 1971, when he was 23, Catsimatidis opened his first grocery store on 99th and Broadway, then another on West 87th Street that he called Red Apple. It stayed open late seven days a week and offered free deliveries. Customers could cash checks there. It was a big hit in the neighborhood and at 24, its owner was a millionaire. At 25, he owned ten stores that raked in $25 million a year in sales.
In 1977, when New York City was hitting rock bottom, the 29-year-old made an investment: "I put $5 million into the real-estate business when the world was coming to an end, and three years later, by 1980, I woke up, and was worth a hundred. That's a lot of money back then."

That same year, he bought a corporate jet from Roy Disney, started taking flying lessons, and in eighteen months became a certified jet pilot. He soon realized how expensive it was owning one. Atlantic City had just opened, so he started leasing it out to high rollers. By the mid-eighties, he owned 48 corporate jets. He sold them and bought an airline, Capitol Air Express. After a few years, he realized he wasn't making any money so he sold the airline but kept the jets and leased them back to the new owners who went bankrupt two years later.
At the bankruptcy court to get his planes back, Catsimatidis was talking to a bankruptcy trustee who asked if he knew anybody who might want to buy an oil refinery that he owned in Warren, Pennsylvania. It was one of the original refineries in the country, almost 100 years old and basically obsolete. Catsimatidis snapped it up. He knew that because environmental laws were getting tighter it would be harder to build a brand-new oil refinery. So instead of tearing it down and selling off the parts, he refurbished the whole thing. And now he is worth $3 billion.
At 2:30, Catsimatidis was back in the conference room. He said he's on a diet, so for lunch he had a salad and Dover sole. At the Italian restaurant where he'd dined on Friday — Circo on West 55th — the maitre d' could not believe that he only got 3,000 votes in Manhattan. "Something is wrong," he told Catsimatidis, according to Catsimatidis.

The billionaire seems inclined to agree. "In the outer-boroughs, I just about came out 50-50," he said. "Manhattan, I lost big. Out of 11,300 votes, I only got like 3,000. It's strange. To me, personally, it looks strange because you know the amount of people I know in New York? But it is what it is."
Meaning dirty tricks?
"Yeah, there were a lot of dirty tricks played upon us, and I'll tell you a few of them," Catsimatidis said. "Those robo calls the day of the election. And that's a federal crime!"
The subject of Joe Lhota's foundering candidacy came up again. "Well, he has failed to raise the money and has failed to get his message out there which is disappointing for him and for other people," Catsimatidis said. "But for him, at this stage of the game, it's a done deal that De Blasio will be mayor."
The conversation turned from political tussles to real-world fights. Had he ever been in one? "You know I've carried a gun for 35 years. I got into a fight in 1984 outside our store on 84th and York. There were three guys holding up our store and I captured one of them. I never fired the gun but I took the guy, put the gun to his head, told him I'm good to blow his head off, and he fell to the ground, dropped his sawed-off shotgun, and the other two guys that were running away started firing their guns … So I captured the one guy and eventually we captured the other two guys and when the sergeant came to check my gun — the police showed up about two minutes later, they wanted to check my license … the sergeant said, 'You forgot to take it off safety.'"
Was he armed at the moment? "I can't tell you. I've carried one for 35 years."
But he is far from a political sibling of the GOP politicians that talk about the Second Amendment in Washington, D.C."I promoted myself as a fusion ticket," he continued. "I was running as a Republican liberal. I believe business has to do well, and that the surrounding communities do well. That is pro-people and pro-business and pro-safety in our streets, the traditional Jacob Javits Republicans or Nelson Rockefeller Republicans. And unfortunately, the younger generation doesn't even know who those people are."
He had to take a quick call and move some money ($2 million) around. Okay, done.

"So I believe my qualifications were good to do what New Yorkers wanted to do," he continued. "I almost want to say what my old favorite mayor — see him in the picture there?" There was a picture of him with Ed Koch. "What would Mayor Koch say? Mayor Koch would say, 'Well, you voted against me — now the people have to suffer!' Or something like that."