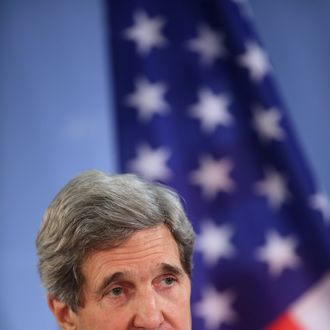 Photo: Sean Gallup/2013 Getty Images
Three months after John Kerry prevented the United States' conflict with Syria from ending in an air strike (perhaps accidentally), the secretary of State announced Wednesday that a deal has been reached on a security pact with Afghanistan, and said this week's talks with Iran are "the best chance we've had in a decade" to curb its nuclear program. When Kerry took office, reports mainly focused on the fact that he wasn't Obama's first pick and wasn't Hillary Clinton, but now that he's poised to deliver some of the few bits of positive news during what may prove to be the most difficult time in Obama's presidency, he's getting some media attention of his own.
Kerry has made no secret of his intention to be an activist secretary of State, unlike Clinton. According to a profile by David Rohde in The Atlantic, Kerry is relishing the fact that he can indulge his love of foreign policy. Plus, he gets to ignore those voters who view his fluency in foreign languages as borderline traitorous.
There's also a key difference between Kerry and Clinton that may help explain what one former State Department employee describes as his "high-risk, high-reward" style. While Clinton was (presumably) preparing for her political future, for Kerry this is the last act in a distinguished political career that includes seeing his presidential hopes dashed. "I don't care at all," Kerry told Rohde when asked about his critics. "I could care less about it. You know, David, I ran for president, so I'm not scared of failure." Or, as he put it another interview with Rohde, "After you lose the presidency, you don't have much else to lose."
On the other hand, many in Washington dismiss Kerry's ambitious agenda (not least of which is achieving peace in the Middle East) as the product of grandiosity, and are unimpressed by the Biden-esque flair he's brought to the job. Several sources (anonymous, of course) describe him as a "gasbag" and a "pompous blowhard." The New York Times puts it more delicately: "Even now, his long-winded explanations — a legacy of his 28 years in the Senate — sometimes test Mr. Obama's patience." Aides claim he's "learned to speak the president's language" over time.
Whatever Kerry's faults might be, he's undoubtedly relentless in pursing his diplomatic goals. As Rohde writes, "The amount of time he's spent negotiating with Afghanistan's Hamid Karzai and Russia's Sergey Lavrov alone should qualify him for some kind of diplomatic medal of honor." And even if he and the president aren't particularly close, the administration was quick to come to his defense when asked about his gaffes. "Look, he's out there a ton, he's out there more than anyone else," said Ben Rhodes, the deputy national-security adviser, "Nobody would challenge the notion that he's been very much a team player and willing to take on really hard assignments from the president and go to the toughest places."