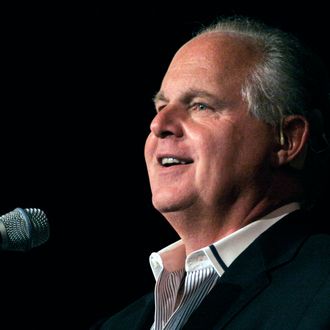 Photo: Bill Pugliano/2007 Getty Images
Yesterday, the Democrat-controlled Senate voted for a rule change known as "the nuclear option." This means that the president's judicial and executive branch nominees can advance to a confirmation vote with the approval of a simple majority of 51 senators, instead of the 60-senator super-majority requirement that was in place before. What are the implications of this? Today, noted misogynist radio clown Rush Limbaugh came up with a vile, profoundly inappropriate rape analogy to explain the situation. "Forget the Senate for a minute," he began before promptly doing so himself.
Let's say, let's take 10 people, in a room in a group. And the room is made up of six men and four women, okay? The group has a rule, that the men cannot rape the women. The group also has a rule that says any rule that will be changed must require six votes of the ten to change the rule.

Every now and then some lunatic in the group proposes to change the rule to allow women to be raped. But they never were able to get six votes for it. There were always the four women voting against it, they always found two guys, well the guy that kept proposing that women be raped kinda got tired of it. He was in the majority and he said, you know what, we're going to change the rule. Now all we need is five. And the women said, 'you can't do that.' 'Yes we are, we're the majority, we're changing the rule. And then they vote. Can the women be raped? Well all it would take then, is half the room–you could change the rule to say three. You could change the rule to say three people want it, it's going to happen. There's no rule.
"When the majority can change the rules, there aren't any," he concluded. Many people have correctly responded to this particular Limbaugh broadcast with outrage, and he will probably be forced to give what will almost definitely be a meaningless non-apology. In the meantime, however, recall that Limbaugh is one of the many conservatives who supported the change to the filibuster rule back when George W. Bush was president. And also note how easy it is for him to imagine a group of people that is completely preoccupied with the question of whether it's all right for its members to rape each other.