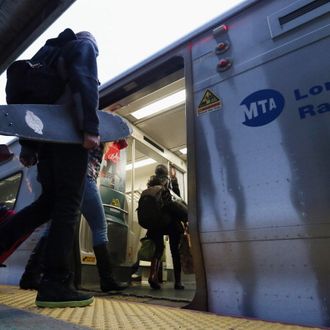 As Hurricane Sandy approaches, passengers board one of the last Long Island Railroad trains on Sunday evening October 28, 2012 in Hicksville, New York. Sandy, which has already claimed over 50 lives in the Caribbean is predicted to bring heavy winds and floodwaters as the mid-atlantic region prepares for the damage.
Photo: Bruce Bennett/Getty
When police arrested a couple for planting cameras and credit card skimmers on Long Island Railroad ticket machines, they discovered a "virtual factory" for credit card fraud. An apartment the couple allegedly worked from contained cameras, skimmers, memory cards, credit cards, and two flash drives full of account numbers, the New York Times reports. "It was unclear how much money was stolen. At least one bank has reported thousands of dollars of losses on more than 50 accounts, the authorities said." Basically, the only safe way to handle your money is to keep all of it on you at all times.