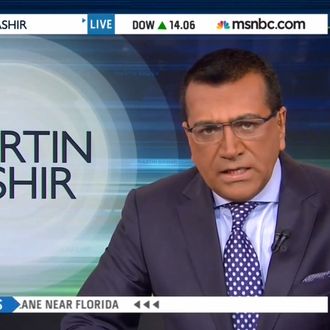 Sarah Palin's inane comparison of the federal debt to slavery — "This isn't racist, but it'll be like slavery when that note is due," she said. "We are going to beholden to the foreign master." — really got to Martin Bashir. Dubbing her a "world-class idiot," Bashir said on his show last week that actual slaves were subject to "sheer cruelty and brutality," including an owner punishing one man by having another slave "s-h-i-t in his mouth."
Palin, Bashir offered, would be "the outstanding candidate" for  "a dose of discipline." MSNBC anchors, it seems, are getting quite vulgar.
Like Alec Baldwin before him, Bashir has since apologized, although the latter has not been suspended. "I wanted to take this opportunity to say sorry to Mrs. Palin and to also offer an unreserved apology to her friends and family, her supporters, our viewers, and anyone who may have heard what I said," Bashir said on his show Monday.
"My words were wholly unacceptable. They were neither accurate, nor fair," he continued. "They were unworthy of anyone who would claim to have an interest in politics. And they have brought shame upon my friends and colleagues at this network, none of whom were responsible for the things that I said, and at a place where we try every day to elevate political discourse and to focus on issues that matter to all of us."
Palin, who you may have heard has a book out, has somehow refrained from commenting on the issue so far.