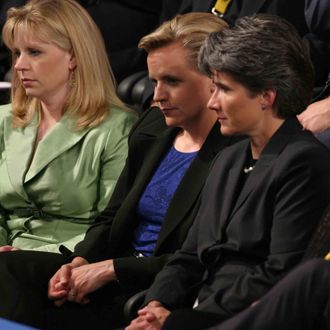 Liz, left, with Mary and her wife at the 2004 Republican National Convention.
Photo: Rick Friedman/ Corbis
Dick Cheney's close-knit family was always surprisingly supportive of his lesbian daughter Mary, until the moment it appeared her same-sex marriage might threaten her sister Liz's shot at a Senate seat in the red state of Wyoming. We only learned this week of the sisters' feud (and their parents' preference for Liz), but Politico Magazine reports that following Liz's announcement this summer that she doesn't support gay marriage, the two were no longer on speaking terms. In the latest round of their public brawl, Mary told Politico's Jason Zengerle in an e-mail this week, "I'm not supporting Liz's candidacy."
Later she elaborated on that point, with an added burn. "By supporting, I mean not working, not contributing, and not voting for (I'm registered in Virginia not Wyoming)," she wrote. Virginia, you know, the state where Liz lived until last year. The nicest thing Mary had to say about sister: "I am not saying I hope she loses to Enzi." She's compassionate toward Liz; she's just making it publicly known that she doesn't support her life choices. Sounds about right.