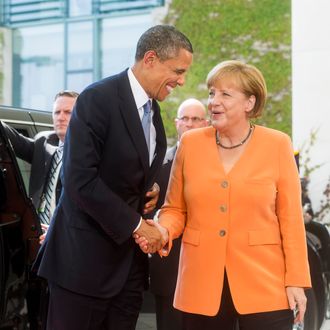 The way they were.
Photo: Pool/2013 Getty Images
Here's a lesson for all of us about betraying a friend's trust – or rather, looking the other way as the head of your massive surveillance apparatus betrays a friend's trust. While the revelation that the U.S. was spying on German Chancellor Angela Merkel has angered people all over the world and may lead to significant changes at the NSA, the New York Times reports that it's also created a personal issue for President Obama. He and Merkel had a rapport that "went beyond the pleasantries uttered at Group of 8 meetings," and she "had become a sort of BFF in Europe."
It's particularly sad, since apparently Obama doesn't have many world leader friends. The pair will still work together on issues like a potential free-trade agreement between the E.U. and U.S., but the days when they shared a "sunset chat" on Greece's debt crisis and Merkel was serenaded by James Taylor at the White House appear to be over. Per the Times:
Given the cool discipline of both, it is not likely that they will give full vent to their feelings. A senior American official said the White House would like "to compartmentalize these issues, and continue to move forward on other aspects of our bilateral relationship."
That doesn't sound very healthy. We'd suggest they try hugging it out, but going anywhere near Merkel's shoulders will probably only make things worse.