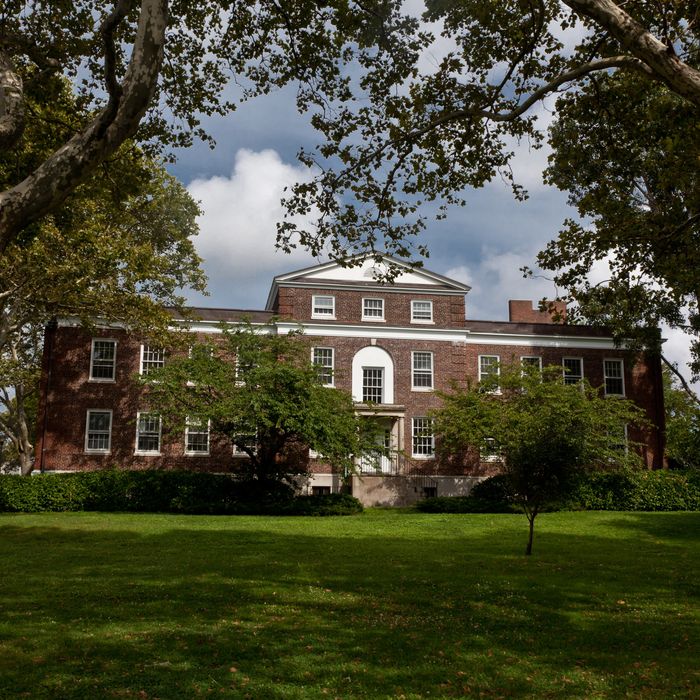 Photo: Michel Setboun/Corbis
Debate about Mayor Michael Bloomberg's legacy will be dominated by subjects like crime, schools, and economic development. As it should be: Those things are fundamental to the day-to-day lives of millions of New Yorkers. But this morning, Bloomberg took a quick ferry trip to visit a smaller part of his twelve-year saga, and one that should be remembered as an unalloyed success: Governors Island.
The disused federal military base was neglected for decades, and dodged such monumentally stupid fates as becoming the site of a casino or being sold to Donald Trump. Finally, in 2010, Bloomberg wrested control over most of the island's 172 acres from the state, and in amazingly rapid order the place has become a breathtaking combination of high culture, mass entertainment, and earnest educational programs. It's also a whole lot less precious and pricey than the more famous landscape repurposing of the Bloomberg era, the High Line. If the High Line is artisanal organic ice cream, then Governors Island is Mr. Softee.
But it's also a fragile, incomplete success. Today Bloomberg went to Governors Island for a ceremonial tree planting, inserting a gold-painted shovel into the dirt around a gingko that is the symbolic 800,000th out of 1 million new trees going into the ground all over the city. Governors Island is a quintessentially Bloombergian hybrid of the type that may not exist for much longer: The mayor has donated or reeled in millions of private dollars for capital projects, like the ongoing creation of baseball fields (financed by the Tisch family) and of rolling, verdant hills (Google's Eric Schmidt). But the operational budget is largely the city's responsibility, and the visionary president of the trust that runs Governors Island, Leslie Koch, is a mayoral appointee.
And, as you may have heard, the city is soon to have a new mayor. Of all the thousands of questions asked during the campaign recently completed, very few were about the future of Governors Island. In some ways, the little harbor refuge is already a model of the more open, equitable city Bill de Blasio wants to build: Last summer it attracted 10,000 visitors per day, from international tourists to local public-school kids. The management of city government is complicated and difficult, and Mayor Bloomberg hired many highly talented people for unsexy but crucial jobs. Right now, the mayor-elect is rightly focused on finding a police commissioner, a schools chancellor, and a budget director. But how De Blasio eventually handles Governors Island will be a small, interesting test of whether he can continue the momentum of what his predecessor did right.