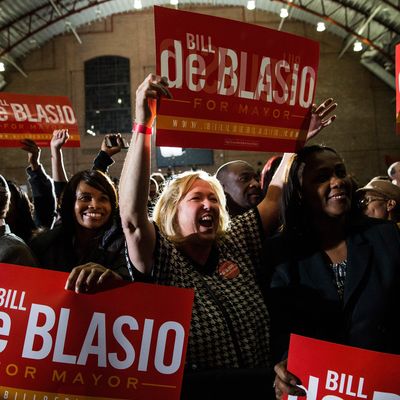 Photo: Andrew Burton/Getty Images
When NY1 made it semi-official, calling the 2013 mayor's race for Bill de Blasio at 9:01 p.m., the victor, his family, and his top campaign aides let out a "Yay!" that was accompanied by a collective shrug. Sure, this was satisfying, but it was also anticlimactic after a month of polls showing De Blasio consistently crushing Joe Lhota. The deeply emotional win had come in September, in the Democratic primary, after a blazing final-month surge. In the days leading up to Tuesday's general-election confirmation, De Blasio's closest allies repeatedly called the two-year journey from long shot to sure thing "surreal." But now, as the final numbers piled up, the feeling was bordering on fictional, even comical: A 50-point margin? Even Mayor McCheese didn't win this big, did he?
And it wasn't just De Blasio. The other citywide races, for comptroller and public advocate, were even bigger romps for Scott Stringer (a 64-point win) and Tish James (a 71-point win). The massive numbers, though, weren't the most significant part of the returns. It's that they were all rolled up by Democrats, from the races for City Hall through 25 out of 28 City Council seats to the contest for Brooklyn District Attorney. You had to go way down the political food chain, to the office of Staten Island borough president, to find a Republican win of even modest importance.
This is, statistically, pretty much how it should be, with a nearly seven-to-one Democratic registration advantage in the city, and why the initial, underwhelmed reaction of Team De Blasio was entirely correct (and realistic, considering the landslide occurred with a record-low turnout). New York probably won't be going back to the eighties in crime rates or unemployment averages, but last night ratified something that hasn't been the case for two decades: We are a thoroughly one-party town again (or maybe one-and-a-half, with the rise of the Working Families Party). The consequences of a political monoculture will play out slowly, and might in some ways be beneficial: Coming up through the ranks could mean that the Dems are more in touch with, and more responsive to, the constituents who elected them. And there hasn't been a functional Democratic clubhouse or machine controlling the levers of power since the fall of Meade Esposito. Yet there are still real risks created by a return, after a twenty-year aberration, to the city's noncompetitive general election system. The influence of lobbyists — drastically reduced during the Bloomberg era, because a multibillionaire mayor didn't need campaign contributions — will increase. But the first real test will come as De Blasio recruits his deputy mayors and commissioners. Will he search narrowly, among his fellow Democratic political lifers, and give jobs to colleagues in labor who were crucial to his come-from-behind campaign? Or will De Blasio be more creative — not necessarily hiring government novices, but at least people whose worldview challenges his own?
On primary night, in September, the group of supporters standing onstage behind De Blasio as he delivered his victory speech included a prominent share of insiders — union leaders, community activists, elected officials. Last night, De Blasio's backdrop, at the Park Slope Armory YMCA, was composed of about two dozen anonymous citizens, a mix of races and genders of no discernible political connection, other than allegiance to the mayor-elect. Way in the back of the room, Shelly Silver, the powerful leader of the state assembly, barked to an aide, "Get me up there!" Bill de Blasio is a loyal liberal Democrat, and maybe the staging last night was empty symbolism, or yet another focusing of the spotlight on his wife and kids. But he looked as if he were trying to show some independence.