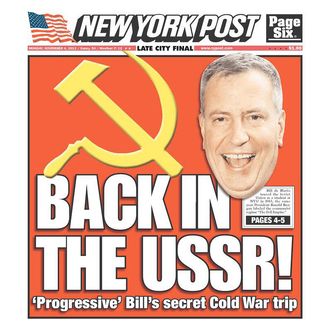 The city's favorite tabloid to shake its collective head at has made no secret of loathing Bill De Blasio. (On today's cover, he's a commie for having visited the USSR as a student.) So the Post's endorsement of Republican Joe Lhota does not come as a surprise, but it does come late, somewhat buried behind the Russia stuff, and with little hope considering De Blasio leads by upwards of 40 points in the polls. Instead of urging New Yorkers to actually vote for Lhota, the endorsement ends on a resigned note, encouraging everyone to remember its warning when the whole city goes to shit.
"True, New Yorkers won't awaken to a crime-ridden dump if de Blasio wins Tuesday. But let's not pretend, as de Blasio and his advocates do, that the hard-bought progress this city has made is irreversible," says the column. "And if you don't give [Lhota] your vote, please do not complain when Mayor de Blasio does to this city exactly what Lhota and this paper have said he will do."
It'll be hard to whine while constantly getting mugged anyway.