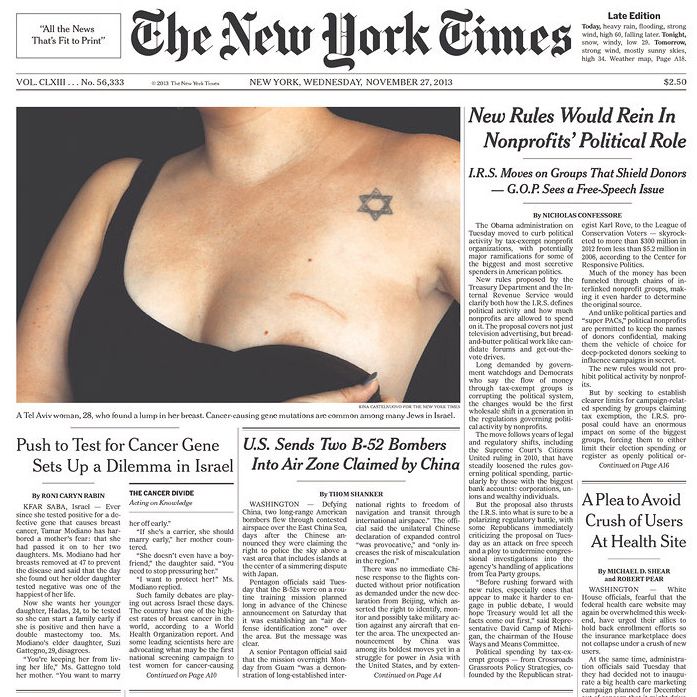 Anyone picking up a copy of the New York Times today and expecting to not see any portion of a female nipple will be in for a bit of a surprise, because there is, in fact, some female nipple. The above-the-fold front-page photo, by Israeli photographer Rina Castelnuovo, accompanies a story about Israeli women grappling with one of the world's highest rates of breast cancer. It shows a woman's torso replete with a Star of David tattoo, a lumpectomy scar, and, yes, a bit of areola.
Online, the reaction to the photo ranged from shock, to snark, to childish tittering, to feigned moral outrage. "Did the New York Times Go Too Far in its Front Page Photo of a Woman's Breast?" asks Glenn Beck news site the Blaze. The Drudge Report went with the headline, "PEEP SHOW: NYTIMES publishes nipple on front page."
But despite the response the photo has elicited, Castelnuovo tells Daily Intelligencer that she didn't set out to be provocative. "It was an unplanned moment," she told us in an e-mail. "I was taking the young woman's portrait and we were chatting about her cancer and the scars." The inclusion of the areola, she said, was "not intentional." Castelnuovo noted that the breasts of Ugandan women had been visible in photos in previous installments of the paper's breast-cancer series, and wondered whether they received a similar reaction. 
Castelnuovo says she spoke to the photo's subject on the phone this morning. Both women agree that the photo "should be seen as what it is, a young woman with cancer. Nothing else."
Editors at the Times say they carefully considered the merits of running the photo. "We always weigh the information an image conveys, its relevance to the story, and image quality," says assistant managing editor Michele McNally. "It was scrutinized." Chief creative officer Tom Bodkin concurs, "It was a beautiful photo and perfectly illustrated the story. There was some concern but that logic was persuasive."
This post has been updated with quotes from the Times editors.