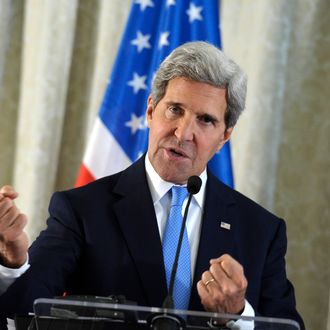 Photo: SUSAN WALSH/AFP/Getty Images
The major agreement by Iran to slow down its nuclear program for now was the result of months of top-secret negotiations with the U.S. that the press agreed not to spill. News outlets, including the Associated Press and Al-Monitor, even knew of the talks before the United States officially told Israel what was happening.
The weekend breakthrough was the result of at least five secret meetings since March, the Associated Press reported, beginning right after Secretary of State John Kerry took over for Hillary Clinton and even before the June election of Iran's new moderate president, Hassan Rouhani. Two secret meetings occurred after Rouhani took office in August, and the AP managed to keep its mouth shut, putting the prospect of global security above journalism.
"The AP was tipped to the first U.S.-Iranian meeting in March shortly after it occurred, but the White House and State Department disputed elements of the account and the AP could not confirm the meeting," the news agency reported, perhaps minimizing its agreements with the government. "The AP learned of further indications of secret diplomacy in the fall and pressed the White House and other officials further. As the Geneva talks between the P5+1 and Iran appeared to be reaching their conclusion, senior administration officials confirmed to the AP the details of the extensive outreach."
Al-Monitor, meanwhile, "agreed to hold the story at the administration's request until the conclusion of the third round of nuclear talks that ended here in a breakthrough."
It wasn't until September 30 that President Obama told Israeli prime minister Benjamin Netanyahu just what was going on (although intelligence services in Israel may have already known). Netanyahu has since called the deal a "historic mistake."
Update: The AP responds in a statement:
AP sought solid confirmation of the information we had learned in recent months. What we had was not going to be published without the kind of confirmation that we obviously received over the weekend.

 To quote AP Washington Bureau Chief Sally Buzbee,  "We had to meet our own standards."