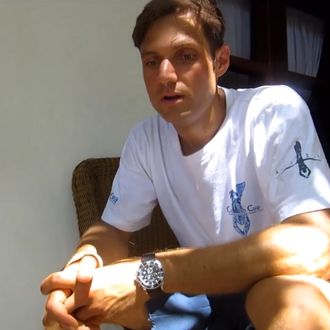 Nicholas Mevoli, champion diver.
Nicholas Mevoli, a 32-year-old living in Williamsburg, Brooklyn, died yesterday in the Bahamas while trying to make a 72-meter (236.22 feet) ocean dive with no weights, no fins, and just one breath. When he reached the surface after three minutes 38 seconds, the New York Times reports, there seemed to be a problem with his lung, and three shots of adrenaline could not save him. Mevoli was hoping to break the record for the deepest "Constant No Fins" dive at the Vertical Blue contest, "the Wimbledon of free diving," which carried a $20,000 prize.
A Florida native, Mevoli became the first American to hit 100 meters last year, using a monofin, with a time of three minutes and 45 seconds. He'd only been competing in diving contests since early 2012.
"We wish Nick luck in his new world," said a friend, according to the Times. "He died doing what he loved to do, I know that." In the videos below, watch Mevoli dive and discuss his extreme life's passion: