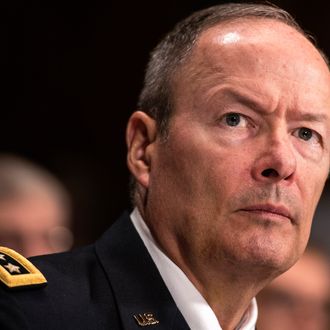 General Keith Alexander.
Photo: Brendan Smialowski/AFP/Getty Images
While the National Security Agency maintains that there's nothing wrong with indiscriminately scooping up data on millions of people, Edward Snowden's leaks sparked congressional scrutiny and an internal review that are bringing big changes to the organization. "It was cataclysmic," Richard Ledgett, head of the NSA Snowden response team, tells the Wall Street Journal. "This is the hardest problem we've had to face in 62 years of existence." Apparently the shakeup nearly went all the way to the top of the organization. Gen. Keith Alexander, the NSA's director, offered to resign shortly after the scandal broke in June, a senior official tells the paper. The Obama administration rejected his offer, though some top officials were less confident in Alexander after the leak. They felt his resignation wouldn't fix the problem, and would look like a win for Snowden. Alexander plans to step down in the spring, but luckily he didn't have to miss out on any of these fun congressional hearings.