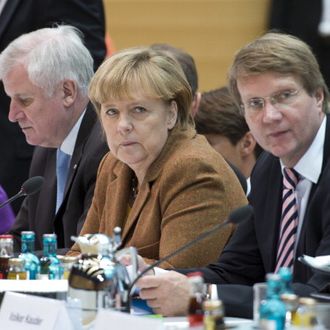 Photo: JOHN MACDOUGALL/AFP Images/Getty
Right in the middle of the New York Times' exhaustive account of National Security Agency activities (published on Saturday based on documents provided by Edward Snowden), there's a description of some of the agency's relationships with other countries' intelligence operations. And it would seem Germany, with whom the United States is trying to salvage a relationship damaged by allegations it spied on Chancellor Angela Merkel, has been secretly upset with us over spying for years. But it wasn't always for the same reason: According to a 2009 NSA document, Germany was insulted it wasn't asked to participate in a joint intelligence venture called 9-Eyes. "Germans were a little grumpy at not being invited to join the 9-Eyes group," the document reads.
The 9-Eyes thing is just one of many intriguing details about the NSA laid out in the Times' story and a corresponding one in The Guardian, also based on Snowden's documents. It refers to a cadre of nine countries that collaborate on intelligence gathering, an extension of the more elite 5-Eyes, which includes the United States, United Kingdom, Canada, Australia, and New Zealand. Denmark, France, the Netherlands, and Norway join in to make 9-Eyes. But Germany is relegated to the third-tier 14-Eyes. "Significantly, amid the German protestations of outrage over US eavesdropping on Merkel and other Germans, Berlin is using the controversy as leverage for an upgrade to 5-Eyes," The Guardian reports.
It's an interesting time, then, for Germany to be cultivating a relationship with Edward Snowden himself. The NSA whistle-blower wrote an open letter to the country, offering to help it with a parliamentary inquiry into the NSA's tapping of Merkel's phone. He handed the letter to German legislator Hans-Christian Stroebele when Stroebele went to meet Snowden in Moscow on Thursday. In the letter, Snowden also said he would like to eventually testify back in the United States. "I would rather go before the U.S. Congress, or a committee of the U.S. Congress and lay the facts on the table," he wrote.
But for now, Snowden can't leave Russia or he risks losing his refugee status. So he's back to working tech support and Germany must make its case to join 5-Eyes without him.