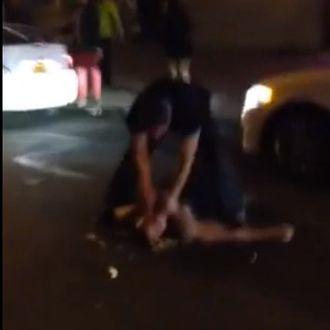 Hayden Holder, 29, reportedly confessed to beating NYPD Sergeant Mohammed Deen in Queens following his arrest Sunday night. However, after he was arraigned on charges of second-degree attempted murder and first- and second-degree assault on Monday, his lawyer said he couldn't recall that altercation because he was too drunk. "He was at the club, they were both very, very intoxicated. They were outside the club. He does not remember this," said attorney Andrew Worgan, according to the Post. He shouldn't have to remember too much, as the vicious beating that nearly killed Deen was caught on video and posted online.
While the clip appears to show Deen walking away before he's punched and knocked to the ground, Worgan suggested the off-duty officer might be at fault. "Something provoked him," said the lawyer. "We just don't know. Supposedly, there is another video from outside the club that shows the beginning of the incident. The one online shows the end, not the beginning. We just have to see what happens."
Holder was ordered held without bail and placed on suicide watch. He faces 25 years if convicted. Deen, who suffered several bone fractures to his face and a brain hemorrhage, is in a medically induced coma at Jamaica Hospital. "I talked to the doctors last evening, they were guarded but had some optimism," said NYPD Commissioner Ray Kelly.