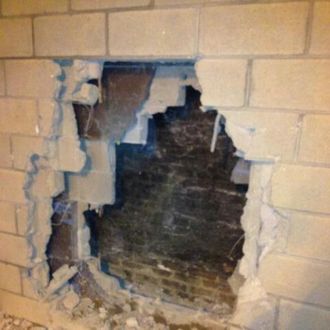 Fire Department rescuers responded to a bizarre call on Sunday: A 19-year-old NYU student had gotten stuck in the tiny space between two buildings, and may have been there for more than a day, though it's still unclear how he wound up there. The going theory is that he fell. The New York Times identified the student wedged in the less-than-two-foot space between a dormitory at 80 Lafayette St. and a parking garage as Asher Vongtau, and reported a friend had last seen him Saturday morning after a fire alarm went off. Rescuers spent an hour and a half cutting through the wall of the garage to get to Vongtau, who they took to Bellevue Hospital in serious condition. But Fire Chief Joseph Schiralli told NBC  New York, "he was conscious, he was moving, he was definitely tired when they got to him."
Campus police found Vongtau's cell phone on the dorm roof after seeing security footage of him running up a stairwell, CBS New York reports. An officer heard him moaning from the shaft sometime on Sunday afternoon, campus spokesman John Beckman told the Times.
According to the Times and CBS New York, students said they had reported Vongtau missing on Saturday morning, and were concerned that campus security didn't search for him until Sunday. "Had we not told the security guards, the three of us 19-year-old students, to check the roof they would not have found him for who knows how long and he would probably be dead right now," one friend named Michael Yablon told CBS. But Beckman told the Times that the school received the first report of Vongtau's absence "very late Saturday night" and began looking for him immediately.
Anyway, it will sure be interesting to hear Vongtau's account when he's well enough to give it.
*This story has been updated throughout.