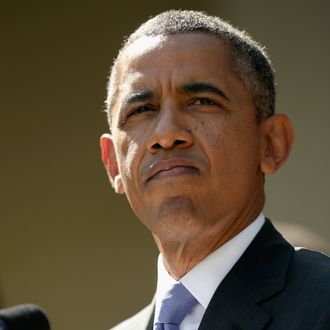 Photo: Chip Somodevilla/2013 Getty Images
In the past five weeks, the furor over the barely functional HealthCare.gov website has given way to claims that President Obama lied when he repeatedly declared, "If you like your health plan, you will be able to keep your health plan," without adding the caveat "unless your health plan is so shoddy that that it doesn't meet the Affordable Care Act's minimum requirements." The White House tried to pin the blame on insurance companies, but on Thursday evening, President Obama tried a different tactic: apologizing to people whose plans were canceled. "It means a lot to them. And it's scary to them. And I am sorry that they, you know, are finding themselves in this situation, based on assurances they got from me," Obama told NBC's Chuck Todd. "We've got to work hard to make sure that they know we hear 'em and that we're going to do everything we can to deal with folks who find themselves in a tough position as a consequence of this."
While Obama sympathized with the hundreds of thousands of people who were surprised to receive cancellation notices, he insisted he never purposely misled the American people. "I meant what I said. We worked hard to try to make sure we implemented it properly. Obviously we didn't do a good enough job and I regret that," he said. The president added that "everybody is acting as if the existing market was working," but he's confident that most people kicked off their "subpar" plans can find better deals on the marketplace. 
Obama said he's "assigned my team to see what we can do to close some of the holes and gaps in the law" and is looking at a "range of options" to help people whose policies were canceled, though he didn't offer any specifics. "We are proud of the consumer protections we put into place," he said.
The president reiterated that he's "deeply frustrated" about the HealthCare.gov mess, but signaled that those clamoring for the firing of Health and Human Services Secretary Kathleen Sebelius are going to be disappointed. "Kathleen Sebelius doesn't write code … she wasn't our I.T. person," said Obama. As for who is to blame for the disastrous launch, Obama said, "I take responsibility of that. My team take responsibility of that. And we are working every single day, 24/7, to improve it. And it's better now than it was last week. And it's certainly a lot better than it was on October 1st." Though, when only six people manage to enroll on the first day, there's a lot of room for improvement.