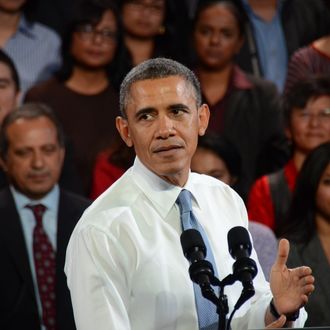 Obama during Monday's speech.
Photo: Steve Rhodes / Demotix/Copyright 2013 Demotix, all rights reserved.
The reactions to the nuclear agreement reached with Iran over the weekend were decidedly mixed, with some calling it a "triumph" and others dubbing it "a historic mistake." On Monday, the president pushed back, saying that while "huge challenges remain" in securing a permanent agreement, "we cannot close the door on diplomacy." He added, "Tough talk and bluster may be the easy thing to do politically, but it's not the right thing for our security." Obama went on to remind the audience at a speech on immigration reform in San Francisco that engaging with Iran is the fulfillment of one of his campaign promises. "When I first ran for president, I said it was time for a new era of American leadership in the world, one that turned the page on a decade of war and began a new era of engagement with the world," he said. "As president and as commander in chief, I've done what I've said."
White House officials told the Wall Street Journal that reaching a final deal to curb Iran's nuclear program is such a key part of the president's agenda that it will get significant attention in the State of the Union. "This is going to consume a lot of effort over the next six months," a senior administration official said. "This is a huge piece of business, and I think that whether it's talking to allies, whether it's talking to the Hill or talking publicly, he will be heard."
In addition to negotiating a disarmament deal abroad, the White House needs to convince members of Congress to cooperate. Since 2010 Congress has passed three rounds of sanctions against Iran, and for weeks the Obama administration has been trying to persuade lawmakers to stop pressing for more. Some in Congress are pushing economic penalties that would only go into effect after six months if Iran violates the interim agreement, but the White House says even that could derail the talks. "This is very high stakes diplomacy, and we want the leverage of additional sanctions hanging out there but we need to take the guidance of our negotiators about what would help or hurt," said the administration official.
This time, Congress's frequent breaks may work to the White House's advantage; there may not be time to pass new sanctions by the end of the year. While Senate Majority Leader Harry Reid said last week that the Senate would take up the issue when it returns from Thanksgiving recess on Dec. 9, he signaled on Monday that he might be backing down. "When we come back, we will take a look at this to see if we need stronger sanctions," he said in an NPR interview. "But we all have to acknowledge that it's an important first step."