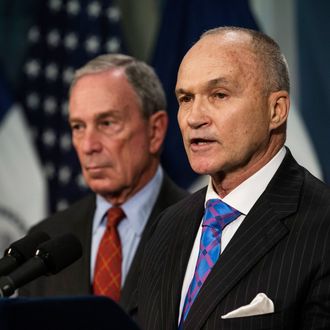 Photo: Andrew Burton/Getty Images
And, as you probably know, that's pretty unusual. The last time the city went 24 hours without a shooting, stabbing, or slashing was November 26, 2012. ("No one could recall a similar occurrence" before that, according to the New York Daily News.) Usually, there's an average of 3.6 shootings in New York each day, though the city recently saw murder-free stretches of nine days (back in January) and a week (in October.) Overall, homicides are down 22 percent from this time last year.
Mayor Bloomberg and Police Commissioner Ray Kelly were obviously pleased to hear about the bloodless Thursday, which they both attributed to the work of the NYPD. "The examples of why we have the finest police department in the world just keep coming," said a statement released by Bloomberg's office. Meanwhile, Kelly told the Daily News, "From the largest illegal gun bust in city history to Operation Crew Cut, we continue to do everything we can to rid our neighborhood streets of illegal firearms and other weapons." Neither suggested that New York's violent criminals are merely saving their energy for the beginning of Bill de Blasio's reign, but we're sure that's what they were thinking.