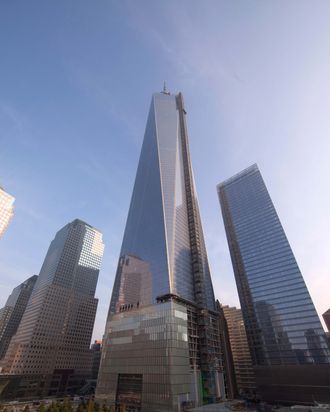 Photo: Allan Tannenbaum-Pool/Getty Images
The Council on Tall Buildings and Urban Habitat does not hate freedom. After much debate among the people who care about these things, the organization decided — following a three-and-a-half-hour meeting — to count the building's 408-foot spire as more than an antenna, thus dethroning Chicago's Willis Tower as the tallest building in the United States. The decision also allows One World Trade to achieve its symbolic height of 1,776 feet when it's finished next year.
"Even though the cladding was taken off the spire, you can still see that is is an architectural element," said the Council's executive director Antony Wood. "It is not just a plain steel mast from which to hang antenna or satellite dishes." Purely functional elements do not count toward the official total.
Dubai still leads the globe in so-called "vanity height," but the important thing is that New York City bests Chicago (at everything).