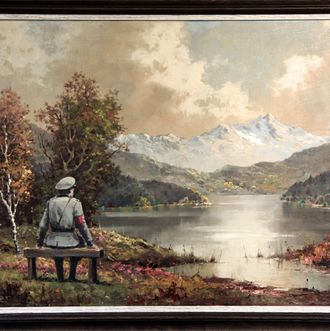 Banksy did at least one admirable thing during his monthlong New York City residency: He bought a $50 landscape painting from a Housing Works thrift store, added a Nazi, and returned it to the organization as the now very valuable The Banality of the Banality of Evil. On Halloween, Housing Works, which uses donations to fight homelessness and AIDS, auctioned off the piece for a reported $615,000. Like Banksy, the buyer's identity was a something of a mystery — he went by the screen name "gorpetri" on the auction website he used to make the winning bid. And, (arguably) like Banksy, he did not live up to the hype. Today, the New York Times and Talking Points Memo report that gorpetri "immediately shirked" on his pledge, leaving Housing Works to scramble to find another buyer.
The charity contacted the auction's other high bidders and found another anonymous person to take it off their hands for an undisclosed amount on Wednesday. As for the gorpetri? "We are still looking into why he defaulted, and we reserve the right to sort of see what we're going to do with it," Housing Works COO Matthew Bernardo told TPM on Friday night. But, he told the Times, "We were happy with the [second] sale. We were happy with the process which we closed with, and it's at a very good home."
However, some former potential Banality of the Banality of Evil buyers were less pleased with the process. Onetime interested party Wil Emling, who was contacted by Housing Works after gorpetri flaked, claims that Bernardo told him that the organization had exaggerated its surprise at finding the piece in one of its stores. "They were in on it all along. They knew. Actually, Banksy's people actually contacted them saying, 'Hey, we're looking for a landscape piece, we want to paint a monster on it,'" Emling told TPM and the Times.
The original auction's first runner-up, art collector Rachel Hirschfeld, says she agreed to buy the painting for $450,000 and, at Housing Works' "repeated insistence," faxed them an offer letter only to be told that she had been outbid again. "I think they used my fax to bid that person higher. I felt very used," she explained before "[wondering] if perhaps Banksy himself had bid up the sale." Bernardo told the Times that "there's no evidence to support that at all," as did Banksy authentication provider Pest Control. Even if he did, it seems alright to let this one possible instance of truth-fudging and Banksy price inflation slide, if only because it was for a good cause.
This post has been updated throughout.