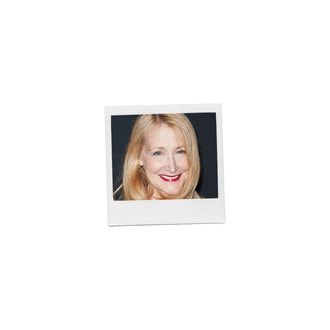 Photo: Dave Kotinsky/Getty Images
Name: Patricia Clarkson
Age: 53
Neighborhood: West Village
Occupation: Actress. Tonight she'll be hosting the annual Fashion for Action benefit shopping gala kickoff at Housing Works, with proceeds benefiting their HIV-positive transgender clients. Grab a ticket here.
Who's your favorite New Yorker, living or dead, real or fictional?
Dawn Powell. She's just a great writer. I first read The Locusts Have No King twenty years ago, and it's still my favorite.
What's the best meal you've eaten in New York?
This is tough. I'd say anything at Café Loup, a restaurant in my neighborhood. I love the people as much as the food, so it's a great meal because I like the company you keep there.
In one sentence, what do you actually do all day in your job?
Cry.
What was your first job in New York?
A hostess at a Greek restaurant on the Upper West Side, when I was at Fordham University. It was harmless, but difficult in ways I didn't expect. And we got held up one night. A young man came up to the register and the cashier just emptied it and he left. And that was it. It was a very strange thing, very stealth and quick. I don't know if they caught him later, but cops came.
What's the last thing you saw on Broadway?
The Winslow Boy. It was fabulous.
Do you give money to panhandlers?
I do, yeah.
What's your drink?
Bourbon. (I grew up in New Orleans.)
How often do you prepare your own meals?
Twice a year.
What's your favorite medication?
I don't take medication, but I guess Salonpas. It's like a stick-on patch when you have a sore muscle.
What's hanging above your sofa?
Nothing, it's windows.
How much is too much to spend on a haircut?
I'd say $250.
When's bedtime?
1 a.m.
Which do you prefer, the old Times Square or the new Times Square?
Old Times Square. It just didn't seem like a theme park.
What do you think of Donald Trump?
I swear to god, I actually believe that hair is real.
What do you hate most about living in New York?
Traffic.
Who is your mortal enemy?
I don't have a mortal enemy! Oh, the bags under my eyes.
When's the last time you drove a car?
A couple of months ago, for a film.
How has the Wall Street crash affected you?
Just slightly. Not in a major way.
Times, Post, or Daily News?
Times, almost every day. I buy all my magazines and newspapers from the newsstand. I hope it never goes away. I like reading things online, but I also like having something tangible in front of me.
Where do you go to be alone?
My apartment.
What makes someone a New Yorker?
Kindness. Which is shocking, but I do think I've witnessed some of the greatest acts of kindness in this city, more than anywhere I've ever been in my life.