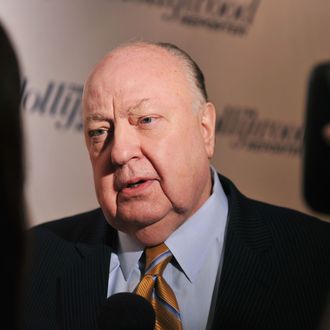 I said good day to you, sir!
Photo: Stephen Lovekin/Getty Images
Alexander Burns and Maggie Haberman report that Rand Paul, who continues to lay the groundwork for a presidential campaign, scheduled private meetings with Roger Ailes and Rupert Murdoch. Burns and Haberman do not have any details as to how the meetings went. Presumably, Paul made the pitch for his candidacy, and Murdoch and Ailes indignantly replied that they are journalists, not operatives, and any request for favorable coverage was completely improper for a fair and balanced news station. Affronted by the implied discounting of their journalistic integrity, they stormed out of the meeting, while still taking care not to let their offense color Fox News's coverage of Paul.
Or possibly not. Like I said, we don't know exactly how the meetings went.