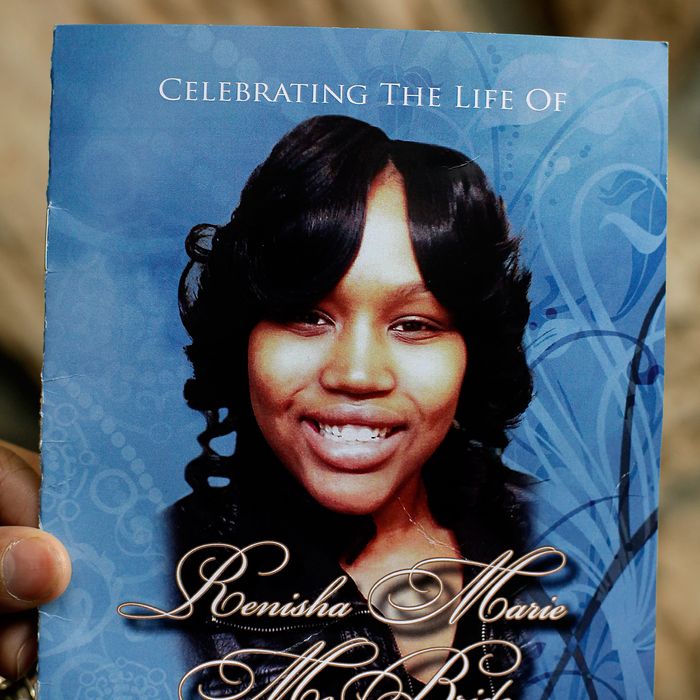 Photo: JOSHUA LOTT/Reuters/Landov
The death of an unarmed black teenager has once again become the most closely watched case in the nation. Today, a prosecutor in Michigan announced charges against 54-year-old white homeowner Theodore Wafer, who, in the early morning hours of November 2, killed 19-year-old black woman Renisha McBride on his front porch. He claims self-defense; she was believed to be looking for help after a car accident. Here's what we know so far.
How did McBride end up at Wafer's home?
Just after midnight in Detroit, McBride crashed into a parked car, according to witnesses. She was seen leaving the scene, then returning to the car, seeming "intoxicated" and "disoriented," the New York Times reports. By the time police got to the scene, 40 minutes after a 911 call, she was gone again.
Hours later — no one is sure exactly where she was in the meantime — McBride turned up in the suburb of Dearborn Heights.
What was she doing there?
Her family believes her cell phone was dead and she was knocking on doors looking for help.
How did Wafer react?
With a shotgun blast to the left side of McBride's face. An autopsy ruled the death a homicide, and noted there is "no evidence of close range discharge of a firearm." Wayne County Prosecutor Kym Worthy said all indications are that he fired through a locked screen door.
"I'm confident when the evidence comes it will show that my client was justified and acted as a reasonable person would who was in fear for his life," Wafer's attorney told the Detroit News.
But prosecutors believe otherwise?
Yes. Wafer was charged today, following days of vigils demanding justice, with second-degree murder, manslaughter, and possession of a firearm in a felony.
"We have issued these charges because we believe the evidence will show that self-defense was not warranted," said Worthy, the prosecutor. "Under Michigan law, there is no duty to retreat in your own home; however, someone who claims self-defense must honestly and reasonably believe that he is in imminent danger of either losing his life or suffering great bodily harm, and that the use of deadly force is necessary to prevent that harm."
McBride, it's worth mentioning, was five foot four and weighed 184 pounds.
This sounds disturbingly familiar.
Yes, 24-year-old black man Jonathan Ferrell was killed by police in September after he knocked on the door of a North Carolina home following a car accident.
While not identical, the self-defense claims bound to be the bedrock of Wafer's defense can't help but call to mind George Zimmerman and Trayvon Martin, as do the racial tensions stirred up by the incident.
So there are complicating factors, right?
A toxicology report found that McBride's blood-alcohol content was near 0.218, way over the legal limit for driving, a fact that was in news reports long before the shooter's name was made public. She also had marijuana in her system. (No toxicology tests were conducted on Wafer.)
"If he was scared, all he had to do was call 911," said Gerald Thurswell, a lawyer representing McBride's family. "Why would you need a shotgun for an unarmed girl outside your door? And the fact that she was intoxicated makes no difference at all."
How strong is the case against Wafer?
It's going to be tough. "There's likely only one eyewitness to this because the woman can't tell her story," a legal expert told the Times. And part of the reason the case has garnered so much attention already is because we've all seen how these things have played out before.