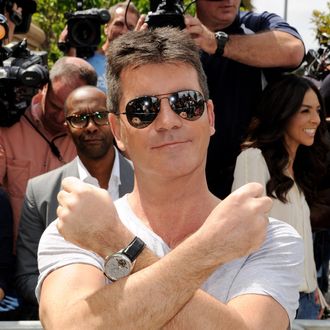 We're going to have to discuss your arm motions, too.
Photo: Kevin Winter/2011 Getty Images
According to the Mirror, an unimpeachably accurate news source, Simon Cowell is pondering a conversion to Judaism. (Cowell has a Jewish girlfriend and has already donated to Friends of the IDF.)
Can we hold a vote on whether to accept him? We have plenty of rich assholes already. (Also lots of Nobel Prize winners, but there's always room at the top.) We could maybe use some more sports stars, auto mechanics, and manicurists.