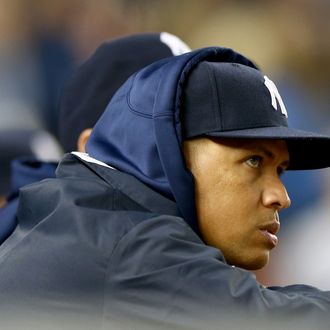 Alex Rodriguez.
Photo: Elsa/2013 Getty Images
Alex Rodriguez has had an eventful day. First, he stormed out of today's hearing as part of his appeal of a 211-game suspension: After arbitrator Fredric Horowitz decided that A-Rod's attorneys couldn't question commissioner Bud Selig, Rodriguez reportedly slammed his hand on the table and shouted, "This is ridiculous!" According to a New York Post source, he then pointed at Major League Baseball COO Rob Manfred, who's been in charge of the league's investigation, and told him, "You're full of shit and you know it." He then proclaimed that the process was "fucking bullshit," and stormed out with Jim McCarroll, one of his lawyers.
A-Rod then released the following statement:
"I am disgusted with this abusive process, designed to ensure that the player fails. I have sat through 10 days of testimony by felons and liars, sitting quietly through every minute, trying to respect the league and the process. This morning, after Bud Selig refused to come in and testify about his rationale for the unprecedented and totally baseless punishment he hit me with, the arbitrator selected by MLB and the Players Association refused to order Selig to come in and face me.

"The absurdity and injustice just became too much. I walked out and will not participate any further in this farce."
Major League Baseball says it's committed to the appeals process, but a spokesperson for A-Rod said that his team doesn't know what it's going to do, but that "most likely it's going to end up in federal court."
Some have suggested that A-Rod storming out of the hearing was a staged bit of theater. But there was more drama to come. Later in the afternoon, an angry A-Rod, along with McCarroll, appeared in studio with Mike Francesa for a lengthy chat. It was pretty great radio. Some bullet points:
• A-Rod was set to testify in his hearing on Friday, but says he won't return if Selig doesn't testify.
• Francesa asked him about a host of accusations related to Biogenesis, and A-Rod denied every one of them, including whether he'd taken PEDs during the time period in question. When asked to clarify that he did nothing wrong, A-Rod said, "That's correct."
• A-Rod admitted he was angry with the Yankees, but that he's "taking one fight at a time. Right now, it's baseball."
• A-Rod offered to travel to Milwaukee to meet with Selig there if Selig wouldn't testify in New York.
• He said that Selig "hates my guts." Also: "He's trying to destroy me. To put me on his big mantle on the way out, that's a hell of a trophy."
• At one point, the conversation veered off topic, and Francesa asked A-Rod whether he'd actually attempted to get the phone numbers of two women in the stands during the 2012 ALCS by passing them a note on a baseball during a game. He said that he did not. "I know that I'm struggling, but I'm not doing that bad," A-Rod told Francesa.
• A-Rod called the home run he hit off Ryan Dempster at Fenway Park this past season after Dempster hit him with a pitch "one of the greatest moments of my life."
• He said he was told by his union that if he testified and gave what MLB considered untruthful testimony, there was the possibility that he could be given an even harsher punishment.
• A-Rod and his lawyer said they couldn't get into the specifics of what evidence they have that proves his innocence, but while speaking with Francesa, they did what they could to discredit Biogenesis founder Tony Bosch and question others involved in MLB's investigation.
• A-Rod was asked where he'd be on Opening Day next season: "I'll either be at third base or sitting with you, Mike." Hey, WFAN: There's your new drive-time show. Suggested title: "The Sports Pope and the Sinner."