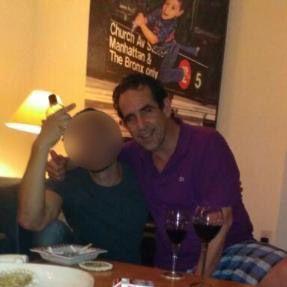 Two guys (the unblurred one is Tony Bosch), two glasses of wine, two packs of cigs, and two baggies of… something.
A-Rod's legal team is hoping to ding the credibility of Tony Bosch, the main witness accusing their client of using steroids, by showing that the anti-aging clinic proprietor used cocaine.
There's little doubt that without Bosch, Major League Baseball's case against Alex Rodriguez falls apart. Bosch claims to have delivered performance-enhancing drugs to A-Rod, the three-time MVP accused by pro baseball of using banned substances and now fighting a 211-game suspension. But there are no drug tests to back up Bosch's version of events. It is, in effect, Bosch's word against Rodriguez's.

Joe Tacopina, who heads up Rodriguez's all-star legal team, points out that it is difficult to prove a negative — in this case, that his client didn't use human growth hormone or testosterone. And so Team Rodriguez is targeting Bosch's reliability, spotlighting a claim from a former friend that he was a cocaine user. Team A-Rod appears to be asking: Can you believe a druggie?
According to a document obtained by New York, Robert Miller, a friend of Bosch's with dozens of convictions on his Florida record, including burglary and dealing marijuana, is claiming that he personally saw Bosch use cocaine "on an almost daily basis." New York has also obtained a photo of Bosch with two baggies of a white powder on a table.
During a cross examination in the secret arbitration proceedings between the player and MLB, Rodriguez's lawyer Joe Tacopina asked Bosch: "You've done cocaine in the past?"
"I'll take the Fifth," Bosch replied to Tacopina, according to an informed source. He asserted his Fifth amendment right on advice of his counsel, attorney Silvia Piñera-Vazquez, who believed that it wasn't pertinent to the hearing and could have potential criminal implications. (Authorities in Florida have launched a criminal investigation of Bosch and his clinic Biogenesis).

One of Bosch's lawyers, Julio Ayala, responded: "Cocaine is irrelevant to anything, and frankly it's nobody's business what Tony does or has done in the past living in Miami."
Lead arbitrator Frederic Horowitz has considerable leeway to do what he wants and has repeatedly indicated that he doesn't much care about the character, including the recreational habits, of witnesses. He just wants proof of whether or not Rodriguez used banned substances. That may not be good news for A-Rod.
But raising the question of Bosch's alleged cocaine use may be part of a forward-looking strategy: The baseball player's lawyers have all but given up hope that they can clear Rodriguez during arbitration; rather, they hope to appeal the eventual decision to federal court, where presumably a jury might look differently at Bosch's quality as a witness.

A decision from the three-member arbitration panel is not expected until at least Christmas.