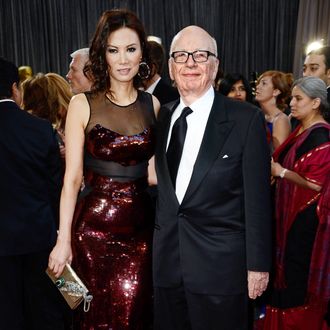 Happier times, with Wendi.
Photo: Frazer Harrison/Getty Images
The 82-year-old media mogul, who filed for divorce from his third wife Wendi Deng over the summer, is back in the game. Rupert Murdoch's "hurt feelings have been soothed by a new romantic interest, a younger woman who has been traveling with him — his massage therapist — who, he has told friends, has made him very happy," according to his one-time biographer Michael Wolff. In case that was too subtle, Wolff added on Twitter, "You heard it here first: RUPERT MURDOCH'S HAPPY ENDING (no way around that one)."
The gossip does not end there. Although initial reports swirling around the divorce had Deng, who is 38 years Murdoch's junior, possibly, maybe sleeping with Tony Blair (!!!), Wolff reports that it was rumors about her relationship with Google executive chairman Eric Schmidt that put the billionaire over the edge.
What's more, Deng's ultimate expression of love — the time she unleashed on a pie-throwing Murdoch assailant — was actually seen by an insecure Rupe to be a bad thing:
It was Deng's telling moment in the sun — stepping between Murdoch and a pie wielder when he was called, two years ago, to testify about hacking before Parliament — that he has told friends crystallized his anger. He realized he did not want her protecting him now — making him look old, he felt, and weak — or his legacy later.
Perhaps to assert his strength and independence — and not at all because he's hurt and lashing out — Wolff says Murdoch is now going after Schmidt, as revealed in an accidental tweet:
Game on.