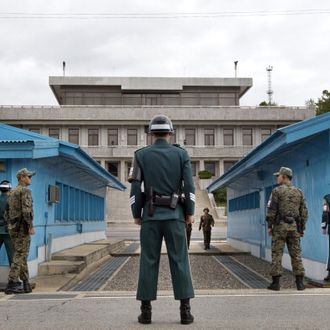 North Korea would like to become more of a tourist destination, what with its state-run tours and new ski resorts, but that's going to be hard to do if it keeps arresting visiting foreigners, as it did with an American war veteran last month. Merrill E. Newman, 85, fought in the Korean War 50 years before he returned to the North on a state-sanctioned tour to fulfill a lifelong goal. But five minutes before his return plane was supposed to take off on Oct. 26, ending his visit, authorities there escorted him off; he's been in custody ever since, the second American arrested in North Korea in less than a year. That prompted the U.S. State Department to issue a stern new travel warning advising Americans to avoid travel to the reclusive state.
Exactly why North Korean authorities detained Newman is not yet clear. Officials there met with him about his service during the war, his son Jeffrey told the San Jose Mercury News on Wednesday night, but Newman is not the first U.S. veteran to visit the country since it started allowing visitors. Bob Hamrdla, Newman's neighbor and traveling companion, called the arrest "a terrible misunderstanding."
Newman's arrest follows that of Kenneth Bae, the American missionary sentenced to fifteen years in prison in the North for "hostile acts."
Whatever the North's reason for taking Newman prisoner, the U.S. State Department does not want any more Americans meeting the same fate. Its new travel warning touts the "risk of arbitrary arrest and detention of U.S. citizens in North Korea," and notes that "U.S. citizens crossing into North Korea, even accidentally, have been subject to arbitrary arrest and long-term detention." According to NK News, it's the first warning of its kind since the North opened for tourism in 1995, so it's probably worth taking seriously. Unless you're Dennis Rodman.