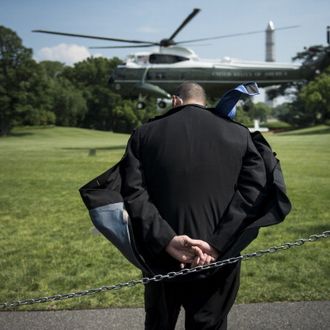 Photo: Brendan Smialowski/AFP/Getty
The latest scandal to hit the U.S. Secret Service does not rise to the magnitude of the agents in Colombia who were recalled for making an early morning scene after one refused to pay a prostitute, but it does take place in a hotel, and this time it involves an unaccounted-for bullet. Two senior supervisors were cut from their duty on the president's detail after one of them apparently tried to get into the room of a woman at the Hay-Adams hotel to retrieve a bullet he'd accidentally left there. In investigating that incident, the service found that agent and another had sent "sexually suggestive e-mails to a female subordinate," the Washintgon Post reports.
The incident at the Hay-Adams happened back in April, when an off-duty Ignacio Zamora Jr., whom the Post describes as "a senior supervisor who oversaw about two dozen agents in the Secret Service's most elite assignment — the president's security detail," met a woman at the hotel bar and they adjourned to her room. Once there, he took the bullets from his gun, but according to the New York Times, when she learned he had a weapon, she made him leave, then realized he'd left a bullet behind.
The Times reports that Zamora did not return to the room after missing his bullet, but the Post, which broke the story, reported: "He returned to the room when he realized his mistake. The guest refused to let him back in." The White House learned about it when the Hay-Adams called to say an agent was demanding entry into one of its rooms, according to the Post.
"The incident led to an investigation that included a routine search of Zamora's government-issued BlackBerry, which contained sexually charged messages to the female agent, according to the people briefed on the findings," the Post reported. Zamora and another supervisor named Timothy Barraclough were both cut from the president's detail. Altogether not a good look for an agency still due for a DHS report on discipline after its last fiasco.