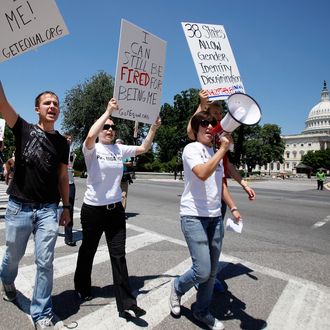 Photo: Alex Wong/2010 Getty Images
On Monday evening, the Senate voted 61-30 to begin debate on the Employment Non-Discrimination Act, in what's being described as a sign of how far the nation has come on gay rights. As the New York Times notes, the Senate hasn't considered extending federal nondiscrimination laws to include sexual orientation since 1996, and this is the first time such a bill has included transgender people. However, the legislation is expected to die in the House, proving that we still have quite a bit of evolving ahead of us.
John Boehner announced today that he opposes the measure, ostensibly because it "will increase frivolous litigation and cost American jobs," and the legislation nearly failed in the Senate. In what the Times describes as an "unusual scene of last-minute haggling in public view," when voting began undecided Republican Sens. Kelly Ayotte, Pat Toomey, and Rob Portman were still huddling in the cloakroom off the Senate floor. About a dozen senators headed to the cloakroom to persuade them to come out and vote. After Democrats agreed to allow votes on two amendments to protect groups seeking a religious exemption, Ayotte, Toomey, and Portman emerged, joining four other Republicans who crossed party lines to support the bill. Insert your own "coming out of the closet" joke.