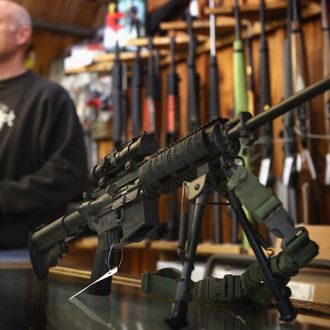 Photo: Scott Olson/2012 Getty Images
New York City's break from stabbings and shootings last week didn't last very long. In addition to Saturday's shooting in Bryant Park, the week is starting with the news that three people were fatally shot in Brooklyn by an acquaintance from the local music scene. According to the New York Times, which quotes a neighbor in East Williamsburg, the band was called The Yellow Dogs, an indie-rock group originally from Tehran, Iran. (Update: Two band members were killed. See below for a statement from their manager.)
The New York Post reports that early on Monday, the killer approached a townhouse on Maujer Street (also home to well-known Iranian graffiti artists) and shot one person, leaving them wounded. He then moved through the building firing a military-style rifle, killing three people.
The gunman has been identified as Raefe Ahkbar, according to the Wall Street Journal. He was reportedly "kicked out of the band some time in the past year for selling band equipment without the other member's knowledge." (The Yellow Dogs' manager disputes this account. Ray Kelly said the shooting involved "a dispute over money involving an indie rock band.") His victims include guitarist Soroush Farazmand, drummer Arash Farazmand, and Ali Eskandarian. A man named Sasan Sadeghpourosko was injured and is currently in stable condition.
Earlier this year, the lead singer of The Yellow Dogs, who goes by the name Obash, told PRI that people expect the group to be political: "We should be, like, I don't know, something like Rage Against the Machine," he said. "But, seriously, we just want to play music — we just want to play this music for the world."
They wrote the song "The City" for Brooklyn, their promised land. "You want to be great engineer, you want to go to NASA from Iran, you study hard, try apply Harvard, Stanford," said Obash. "You want to go to that place where you can make progress. New York City and the scene here was our Harvard University."
Update: A manager for the group has released a statement that contradicts earlier media reports:
The shooter was not a former member of the band The Yellow Dogs, he was in another band from Iran and the two groups were acquaintances in the past. A personal conflict between the guys resulted in the dissolution of their relationship in 2012. The shooting resulted in the death of two of the members of the Yellow Dogs, Sourosh Farazmand (guitarist) and Arash Farazmand (drummer), along with a friend of theirs, fellow musician and author Ali Eskandarian. The shooter died from a self inflicted bullet wound on site.
Here's an interview with the group from February:

This post has been updated throughout.