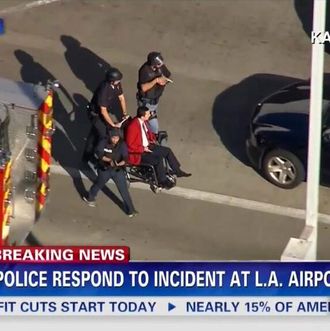 A gunman reportedly opened fire at LAX this afternoon at Terminal 3, sending passengers fleeing and halting flights. Although details are still sketchy in the flurry of initial reports, the LAPD confirmed a "major tactical incident." Witnesses have said they heard multiple shots, possibly from a powerful rifle seen later on the floor at the scene. A suspect is said to be in custody, described as a male in a white shirt and jeans with a shaved head. According to the Los Angeles Times, at least three people are injured and one dead, including multiple TSA agents.
We'll update more as information becomes available.
Update, 5:44 p.m.: An official told the L.A. Times that Ciancia "wasn't a fan of the TSA."
"This act of violence reminds us of the risks the brave men and women of TSA face every day as they work to protect the traveling public," said secretary of the Department of Homeland Security Rand Beers in a statement. "The thoughts and prayers of the entire Department go out to the family of the Transportation Security Administration employee who lost their life in the senseless shooting at Los Angeles International Airport earlier today, as well as the additional individuals, including TSA employees, who were injured in the incident."

Update, 4:11 p.m.: The suspect has been identified as 23-year-old Paul Anthony Ciancia, who "apparently had strong anti-government views."

The American Federation of Government Employees has confirmed that at least one TSA officer was killed in the attack.

Update, 3:02 p.m.: At a news conference this afternoon, chief of airport police Patrick Gannon said the incident began around 9:20 a.m. local time when an individual pulled an assault rifle out of a bag and opened fire. "He proceeded up into the screening area, where TSA screeners are, went past the screeners and back into the airport," Gannon said. Law enforcement then "engaged him in gunfire and were able to successfully take him into custody." He is believed to be the lone suspect.
"We believe this to be a static situation now, a safe one for all who are in the airport," said L.A. Mayor Eric Garcetti in a statement.
Multiple people have been confirmed shot, with six people committed to local hospitals. No deaths have been officially confirmed.
The airport is accepting some incoming flights, but at less than half of its arrival rate. James Franco has been affected:
Update, 2:48 p.m.: NBC News is reporting that the shooter is a U.S. citizen in his twenties. 
Update, 2:20 p.m.: The suspected shooter was reportedly killed by law enforcement, according to multiple sources.
NBC and others have since corrected:
Additional photos and information from the scene: