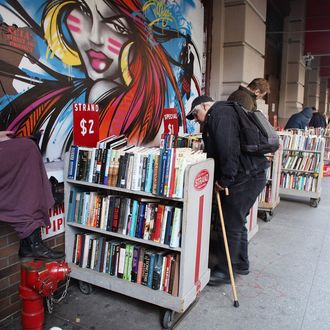 People browse through books outside of the Strand Bookstore on April 2, 2012 in New York City. Workers and owners of the Strand are in a contract dispute over healthcare contributions, a two-tier wage system and other benefits. Part of the United Autoworker's Union, the store's 140 non-management employees will vote on a new contract this week.
Photo: Spencer Platt/Getty Images
"Strand manager Eddie Sutton denied the sprinklers were intended to disperse the homeless," DNA Info reports, "saying they were there to clean the sidewalk." Of homeless people.