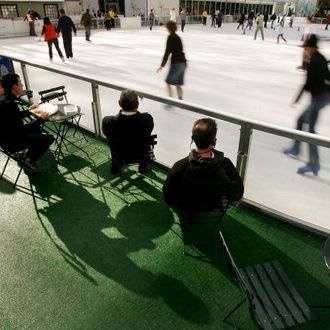 When skaters took to the ice in Bryant Park on Sunday morning there was no sign of the shooting that took place there late on Saturday, and by the evening Corey Dunton, a 16-year-old from the Bronx, had been arrested and charged with attempted murder, assault, reckless endangerment, and criminal possession of a weapon. Police say Dunton demanded 20-year-old Javier Contreras's Marmot Mammoth "Biggie" coat, which costs over $600, and when he refused, Dunton fired three shots into the crowd, injuring Contreras and 14-year-old bystander Adonis Mera. With hundreds of people in the park at the time, there were plenty of witnesses, and Dunton made his attorney's job even more difficult by writing on Facebook about his intention to bring a gun to the park, and essentially confessing in a series of posts as police banged on his door.
According to the Post, Dunton decided to inform his Facebook friends that he'd be partaking in some armed wintertime recreation, writing on Friday morning, "Bryant Park Looking To Litt Saterday Gotta Bring Da. amp."
When police arrived at his mother's apartment around 8 a.m. Sunday, Dunton wrote, "FEDS AT MY DOOR IM GOIN OUT WITH A BANG!!!!!!! TAKE MY SOUL." Saying that he'd been drinking all night, he added:
LOVE ALL MY REAL N- - -AS ALL MY REAL SHORTYS FEDS TRIEN KICK DOWN MY DOOR ITS OVER WERE DO I GO FROM HEREEEEE MANNNNN DO I END MY LIFE IDK WAT TO DO I F- - KED UP

THESE N- - -AS GUNNA HAVE TO TAKE ME OUT TAKE MY LIFE THESE N- - -AS BEEN BANGIN FOR LIKE A F- -KIN HOUR I AINT GOIN TO JAIL I REATHER TAKE MY LIFE!!
After about an hour, Dunton surrendered to police. The Associated Press reports he'll be charged as an adult.
Both victims were in stable condition on Sunday. Contreras was hit in the hand and hip and Mera was struck in the back. The 14-year-old's brother, 29-year-old Jorge Arias, said he "has no feelings from the waist down," and according to a law enforcement source, he may be permanently paralyzed.